June 16, 2015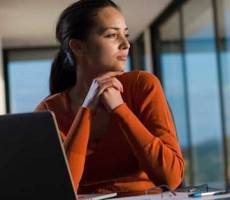 A new report from Regus, based on a study of 44,000 workers worldwide claims that while many people see flexible working as an important factor in their career choices, they also remain worried about what working from home will mean for their happiness, health, family lives and job prospects. The report claims that many workers are afraid that working from home will mean they grow lonely, overweight and stale. According to the report, home workers still long for a chance to mix with other professionals and so opt to pop out of the house regularly for a change of scenery and to reconnect with the real world.
Another crucial drawback faced by home workers cited in the report is the irritation felt by family members who often consider the home worker is taking over too much domestic space in the house and can lack respect for a home workers' need for a professional workspace.
The study quizzed over 44,000 workers globally about their concerns over home working and whether flexible working should be promoted or incentivised by governments. They were also asked about the impact of flexible working on workforce participation specifically in relation to returning mothers, older workers and youths.
The main findings were:
Specifically, 52 percent of professionals report that they work outside the office more than half the week, but confirm that working from home is not always a desirable alternative.
29 percent of respondents say that their family resent that they have sectioned off a space in the family home and two fifths (39 percent) think family members take their work less seriously because they work from home.
In addition to this, 62 percent say they feel they are getting stale, 38 percent 'get lonely' and 64 percent miss mixing with other professionals. 32 percent are afraid of getting fat as they snack throughout the day.
In spite of this, flexible working, when carried out in a professional environment, is regarded as having great potential in helping drive growth and increase workforce participation as 81 percent of respondents think that money saved on expensive leases and under-occupied office space, would instead be invested in growth initiatives, in turn helping increase GDP and occupation levels.
As a result business people believe that governments should be promoting flexible working by offering firms tax incentives (86 percent) and fully 79 percent of respondents believe that flexible working should be financially incentivised by government.
Specifically, the reasons national governments should promote flexible working are closely linked to economic growth: 83 percent believe more flexible working would help increase female participation in the economy and 59 percent believe that it would help curb youth unemployment.
88 percent believe it would also help workers who care for family members to remain in the workforce.
26 percent of firms report they will be hiring more returning mothers in 2015. This is good news for GDP as increased participation of women in the labour force is a driver for the economy.
Respondents report they value returning mothers for their experience and skills (55 percent) and see them as more reliable (30 percent) and organized (31 percent) than regular staff.
As retirement age is lifted higher and higher across Western economies, and populations everywhere age, the proportion of those needing to remain in employment, and fit and willing to do so, is also increasing. 84 percent of respondents also see flexible working as key to keeping older workers in the economy