December 11, 2014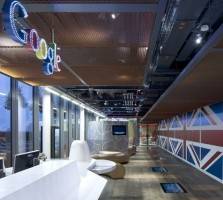 Technology firms now routinely dominate lists of the best place to work, but there are signs at least that their dominance may be waning slightly. According to a new survey of the best places to work in the US and UK compiled by jobs website Glassdoor, Google tops a list of the 50 best places to work in the US. The survey is restricted to firms with 1,000 or more employees who have received at least 50 reviews based on a 1 to 5 scale over the last 12 months. This methodology inevitably presents a skewed picture. Nevertheless, there may be something to conclude from Apple only making 22nd place, Facebook's fall from 5th to 13th, LinkedIn's slip from 3rd to 23rd and Twitter's fall from 2nd to nowhere. Meanwhile in the UK, John Lewis's longstanding focus on employees saw it grab one of the top five spots alongside the likes of Microsoft and Google.
According to the online survey, advocates of Google enjoy the firm's opportunities for career progression, leadership, quirky office designs (above) and free food although concerns were raised about the demands placed on employees and the negative perception of Google in the outside world.
In the UK, the top five best places to work were Google, John Lewis, Microsoft, Accenture and Jaguar Land Rover. There were few surprises in the rest of the list, not least because of the restrictions of the survey's methodology, so prominent names included Unilever, Diageo, PwC, Deloitte, BP and GlaxoSmithKline.