November 30, 2021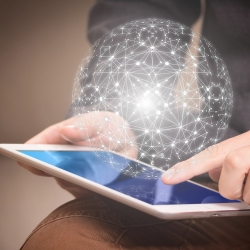 New research from IONOS Cloud, has highlighted the biggest security risks businesses are facing when it comes to hybrid working, and views and attitudes on how to ensure organisations stay safe and secure.
When IT decision makers (IT DMs) were asked about the biggest risks hybrid working is causing businesses, user devices acting as gateways for malicious attacks (42 percent), employees being less attentive to risks when at home (42 percent), and user devices being away from the corporate network for too long (40 percent) topped the list.
The evolution of working habits is also causing additional stress, with over two thirds (69 percent) of respondents saying hybrid working is putting more pressure on teams to ensure the business is prepared for cyber security threats.
The research, which was conducted by Censuswide on behalf of IONOS Cloud, polled 557 IT decision makers who currently have a hybrid working approach.
Findings
When it came to improving security around hybrid working practices, almost three quarters (74 percent) of respondents agreed that their business must communicate more regularly about the increased cyber security risks caused by hybrid working. In addition, a further 70 percent agreed the business needs to invest in more education for employees on cyber security risks, and nearly seven out of 10 (69 percent) of those asked agreed that the business must put longer term strategies in place.
Focusing on data protection standards, over a third (35 percent) claim working from home means employees are not adhering to data protection standards and nearly three in 10 (29 percent) say hybrid working has made it hard to manage data protection standards.
Positively, some businesses are already taking action to implement change, with 67 percent of IT DM's agreeing that the business they work for is putting enough funding into updating its cyber security strategy in the face of hybrid working.
Exploring the hybrid working impact on a business's cloud strategy, 38 percent of respondents have increasingly looked at cloud-based IT operating models, 38 percent will increase the use of hybrid cloud management and 35 percent are moving workloads and applications to the private cloud.