January 25, 2022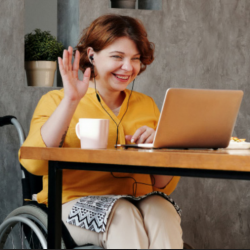 A new study from smart building platform Infogrid claims that nearly a third of working Brits (32 percent) want to return to their offices in January because they feel it would improve their mental health, which has been impacted due to the COVID-19 pandemic. The top reasons UK employees cite for wanting to return to the office include working in a positive social environment (35 percent), having a reason to leave the house (26 percent), not having to worry about being cold at home (25 percent), and the daily commute providing time to transition between home and work life (23 percent).
These findings come from Infogrid's 2022 Hybrid Workplace Report report (registration), which explores how the evolution of the pandemic is impacting employees' overall health and their safety concerns. The report takes a deeper look into the tools and technology available to employers, from CO2 monitors to occupancy sensors, which can help make the physical workplace healthier, help manage ventilation and virus risk, and make employees feel confident about returning to the office.
The research shows that one of the benefits of going into an office is that it increases workplace performance for many people, with 44 percent of employees finding working in a physical workplace improves their productivity. In addition to this, 63 percent of UK employees value having access to an office or physical workplace, with hybrid working currently the most popular working model, preferred by 38 percent of the UK, with a further 25 percent stating that they would prefer to work from an office full-time.
Although the research suggests that respondents want to work in a physical workplace to improve their mental health, there are still barriers that remain to return to the office. 29 percent of Brits said they are concerned about ventilation in the workplace and 26 percent are worried about feeling too hot or cold.
To feel comfortable returning to work, employees want to see their employers consider implementing efficient and regular cleaning services (38 percent), better control over the number of people in the workplace (31 percent) and the installation of better facilities to reduce virus risk (30 percent). Therefore, to ensure staff workers are comfortable before being asked to head back to the office, businesses would need to implement these services and consider further investments into technology to measure these factors, including CO2, temperature and humidity monitoring and analysis to improve the indoor environment.