February 29, 2016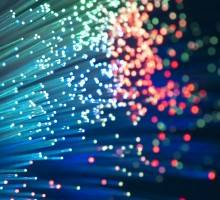 British companies are growing increasingly exasperated by the UK Government's failure to provide a world class Broadband infrastructure, according to a new report from the Institute of Directors which will be published later today. According to the report, Ultrafast Britain, the UK is lagging behind many other countries, yet the Government continues to display a 'poverty of ambition' on the matter. The report suggests that the commitment to offer 95 percent coverage of 'superfast' broadband to the UK by next year is woefully inadequate and the target instead should be to offer speeds of 10 gigabits per second by 2030, around a thousand times faster than the current official target of 10 megabits per second by 2020. Last week the IoD joined those criticising the feeble management of telecoms regulator Ofcom on the issue, calling for the break-up of monopoly broadband infrastructure provider BT Openreach.
"Now is the time to set a bold new target for genuinely world-beating broadband," said Dan Lewis, senior advisor on Infrastructure Policy at the IoD, and author of the report. "We have the leading internet economy in the G20, and yet download speeds are mediocre and the coverage of fibre optic cable is woeful. Unfortunately, the Government's current target displays a distinct poverty of ambition."
IoD members interviewed for the report said that better broadband speeds could increase their company's productivity, make them more competitive, and enable them to offer more flexible working to their staff.
Last week, the Institute of Directors welcomed Ofcom's Strategic Review of Digital Communications which outlined measures to improve competition in the UK broadband industry. Dan Lewis said: "BT has been granted a stay of execution, but Ofcom has made it clear that it will keep the axe ready in case Openreach fails to make substantial improvements to the service it offers customers. There remain real concerns about BT's influence over Openreach and the effect this has on competition in the broadband market, so we welcome the regulator's decision to shake-up governance at the company.
"Ofcom has also rightly demanded that BT gives rival broadband companies easier access to their network of telegraph poles and underground ducts. There are examples of countries, such as Lithuania and Spain, where easy, low-cost access has dramatically improved the reach of fibre optic cable to homes and businesses and promoted competition. The UK is seriously lagging behind the rest of Europe on coverage of fibre, meaning that even in city centres many customers are subject to grindingly slow broadband speeds.
"Demand for data is growing rapidly, and the only way to future-proof the UK's broadband infrastructure is through the roll-out of fibre, so Ofcom is right to promote this as an alternative to copper cables. The current set up, with the major broadband provider being part of the same group that owns the cables, poles and pipes, may not in the long term be able to deliver the network that the UK's rapidly expanding internet economy needs. Even after Ofcom's changes, BT Group will still extract value from competitors paying to use Openreach's network, so a full investigation by the Competition and Markets Authority must remain on the table. The end goal must be to create a flourishing, competitive market for telecoms infrastructure that moves UK broadband speeds up to the top tier of the global rankings."