June 14, 2016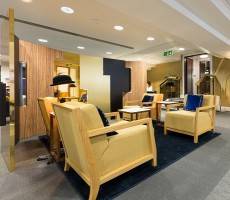 The UK is the leading global serviced office sector, with the largest and most mature market, accounting for over a third (36 percent) of the worldwide serviced office footprint, according to a new report commissioned by serviced office group Office Space in Town. The UK serviced office market has grown by 31 percent since 2008, and it is projected to increase in value significantly by 2025, to £62 billion on conservative projections and £126bn on more optimistic forecasts. There are three key drivers behind its rise: increasing numbers of growth businesses, expansion of key sectors that use serviced offices and the trend towards more flexible working. There are sound economic and business behavioural reasons to believe this growth in demand for serviced offices will continue over the next decade. This, in part, will come from growth in small firms and business start-ups, which comprise a large share of current serviced office users.
London leads the way within the national market, accounting for 34 percent of the serviced office footprint, however regional cities such Manchester, Bristol, Glasgow and Edinburgh are also growing quickly, as demand expands beyond the Capital.
The sector is worth around £16bn currently on a conventional office valuation method and is likely undervalued by close to 20 percent or £3bn if it were appraised using a dedicated valuation approach.
The report, which was compiled by economic research consultancy Capital Economics and property academics, Professor Michael White of Nottingham Trent University and Professor Neil Dunse of Heriot-Watt University argues that the UK serviced office market is a British success story – by far the largest and most mature market internationally, and that the sector's pace of expansion is set to accelerate further as will its attractiveness for institutional investors.
This makes the need for a market-wide accepted valuation essential, which the report, for the first time, puts forward offering institutions a framework to help them fully embrace the serviced office sector and maximise its investment potential.
The report reveals that the UK is the largest and most mature serviced office market globally, outstripping its European and even US counterparts, accounting for 36% of the international market and with approximately 2,300 serviced office centres nationally.
Meanwhile, growth is projected for sectors such as information and communications and professional services, for whom serviced offices are very attractive. In addition, the report predicts that changes in the business environment and working practices brought about by new technologies and a more footloose globalised workforce will encourage businesses to shift away from conventional leased space.
The strong growth and bright prospects for UK serviced office sector has resulted in its emergence as an attractive subsector within the commercial real estate market and a popular opportunity for institutional investors. With strong demand and robust rental growth, the sector is vying with the conventional office market in terms of performance and has emerged as a distinct property asset class.
Yet the serviced office sector still lacks a dedicated market-accepted valuation methodology, which would further spur its growth. Currently the UK serviced office market is estimated to be worth £16 billion using a conventional valuation model, but looks undervalued as under a dedicated serviced office valuation model these assets have a higher worth – £17 billion based on workplace rental income alone and £19 billion when the additional service charges are included – close to 20% higher than the figure reached using the standard valuation model.
Based on modest projections for key drivers and a dedicated valuation approach, the report suggests the growth of the serviced office market is set not only to continue, but accelerate, to be valued at £62 billion by 2025. On more optimistic key driver projections, the UK serviced office market could grow even faster, reaching a value of £126 billion.
For the sector's potential to be fulfilled, a market-wide accepted valuation method, specific to serviced offices, is required, which will help industry and institutional investors take full account of serviced offices' unique assets. The RICs "Red Book", a definitive guide for valuers, does not currently provide specific advice for serviced offices. This report puts forward such a framework for the first time and holds out promise that the sector will be able to achieve its full potential.
Giles Fuchs, Co-founder and CEO of Office Space in Town, commented: "With more and more businesses seeking flexible and dynamic office space, the exponential growth of the serviced office sector is unsurprising as is the fact that the valuation of serviced offices is an issue currently being hotly debated. With the UK as the world leader within the sector, we are proud that London is the centre of this important industry dialogue and the framework that we have proposed within this report is the result of collaboration between experienced industry experts. With strong growth expected in the next decade and continued interest from institutional investors, the accurate valuation of serviced offices will become ever more significant and important".
Michael White, Professor of Real Estate Economics at Nottingham Trent University, commented: "The serviced office sector has the scale and prospects to be considered as a property class in its own right, but without a definitive guide on their valuation, the strength of the market risks being overlooked. With the pace of serviced offices' expansion set to increase over the next decade, it is a critical time to open the debate on the way serviced offices are seen within the commercial real estate sector, including how they are valued.
"The framework put forward in this report considers the full potential of serviced offices and will help the industry and institutional investors to better capitalise upon the sector's assets".