April 29, 2019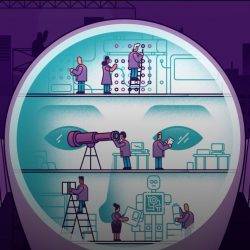 Only half of UK employees consider their organisations to be effective at creating a positive work environment and only two fifths consider their employer to be effective at creating meaningful work. With 84 percent of workers stating that employee engagement and productivity are linked and 68 percent say their organisations do not measure the correlation between employee engagement and productivity – suggests UK business leaders need to think differently to prevent productivity slumps. The findings are from the Deloitte Human Capital Trends 2019 survey, which tracks the top trends shaping the agenda for HR and business leaders both in the UK and globally. Employee experience, leadership and learning, respectively, led this year's top 10 UK trends.
"We're seeing strong trends emerging in employee engagement, or the lack of it," said Will Gosling, partner and Human Capital lead at Deloitte UK. "People, or human capital, is a business' biggest asset, and creating a positive work environment is fundamental to the success of any business. Employers are already facing huge disruption challenges from technology advances to demographic changes, and an unproductive and unengaged workforce simply should not be one of them."
Employee experience
The survey suggests that UK employers are struggling to keep up with the pace of technological change as only a fifth (22 percent) of UK employees are satisfied with their organisation's use of technology. In Germany, for example, over half (51 percent) of its workforce are satisfied, and the global average is 38 percent.
70 percent say their organisation promotes career growth opportunities as part of its employee experience, but only 36 percent believe their organisation is effective or very effective at engaging employees in these.
Leadership
When asked for their views on the requirements of leaders, respondents believed that changes in technology (79 percent), demographics (77 percent) and the pace of change (73 percent) were most important. However, only 18 percent of UK respondents believe that their company's leadership programmes are effective at developing leaders to meet evolving business and economic challenges. A quarter (24 percent) believe that how a business is run and organisational structures gets in the way of leaders effectively managing teams.
Gosling said: "The workplace is seeing a huge transition, as traditional organisational structures and hierarchies are being broken down into team structures. Adopting team structures will improve productivity, and in turn performance, so businesses that have not yet made this transition are at risk of falling further behind."
Learning
The report claims that 69 percent of the UK workforce say they have no incentive to learn new skills. 87 percent state that learning is important, or very important, in driving employee engagement, but 15 percent describe their company's learning culture as inadequate.
"Business leaders need to act now in order to reskill their workforces to futureproof their business," continued Gosling. "Artificial intelligence is not new, but the pace of change is, and businesses risk leaving swathes of society behind. Faced with longer careers and a multi-generational workforce, employers need to continually train and equip its workers with new skills in order to attract, retain and develop. "Our survey confirms the importance of leadership and learning in the face of change, but it is the employee experience that will drive the success of a business' main asset – its people, and guarantee it is ready for the future of work." concluded Gosling.