November 4, 2020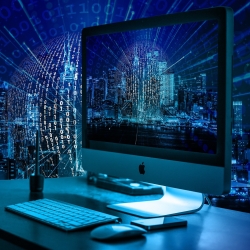 New research from CWJobs claims the UK tech skills gap is set to narrow. Surveying over 2,000 professionals, comprising of 1,120 tech workers and 1,026 non-tech workers, the report suggests that over half (55 percent) of non-tech workers contemplating a career change have considered or have begun the process of moving into a tech-based role, with almost one in 10 (8 percent) having already made the move.
The tech industry has long experienced a skills gap, as the demand for top talent has exceeded supply over the years. The pandemic has amplified this, as businesses recognise the increased value of IT and tech support. Consequently, nearly half (45 percent) of IT workers said their company is currently actively recruiting for tech-based roles, offering greater opportunities for those looking to retrain and upskill into the thriving tech sector.
Covid-19 Forces Career Considerations
When looking at how Covid-19 has impacted individuals' professional aspirations, for one in eight (12 percent), the pandemic has sped up their ambition to change careers completely.
Additionally, a quarter (25 percent) of all workers said they would put stability and security over salary going forward when asked about their motivations. Fortunately, the tech industry presents a growing opportunity to individuals looking to future-proof their careers, by retraining or entering a completely new career. A fifth (20 percent) of IT workers said one of the main advantages of working in a tech role, over others at present, is greater career stability, as well as the fact that companies are prioritising tech due to learnings from Covid-19 (19 percent).
The Tech Appeal
Tech roles are an increasingly attractive option for non-tech workers, as nearly three in 10 (29 percent) agree their careers become more future-proofed as they develop further tech/IT skills. In fact, over a fifth (22 percent) have undertaken online tech training courses since the pandemic hit in order to develop their IT skills. Highlighting the sector's true value, just under a quarter (23 percent) of IT workers said one of the advantages of a tech role, at present, is that the ability to learn is endless due to the constant development of software and hardware.
Almost three in 10 (28 percent) IT workers believe their company needs to recruit new tech talent to the business due to the increase in remote working. Therefore, the top types of tech skills IT workers feel their company needs to recruit are IT support (33 percent) and cyber security (23 percent). Interestingly, IT support came out as the top (34 percent) online tech course taken within the past year by those surveyed. Tech workers also recognise the need to keep their IT skills current, with a third (33 percent) looking to further their specialisms. Transferable soft-skills such as problem solving (31 percent) and teamwork (22 percent) from those with non-tech backgrounds have also been recognised as beneficial to the sector.
Positively, the industry is open to embracing this new wave of talent from various sectors. Nearly three in 10 IT workers (28 percent) said they would welcome new talent from outside of tech, as they believe it would help address the wider skills gap.
"Jobs in IT and tech are likely to offer a sense of security for those looking to enhance their employability"
Nimmi Patel, Policy Manager Skills, Talent and Diversity, techUK said: "Having played an integral role in supporting business and the public throughout the pandemic, when it was most needed, tech skills and roles are now more valued than ever. As the benefits to working within tech are widely recognised by those outside of the sector, these new findings from CWJobs indicate we're likely to see more people turn their careers towards tech. Now is the time for the industry to seize on the enthusiasm from those interested in different careers and grasp the opportunity to tackle the UK's skills gap and create a more diverse sector."
Dominic Harvey, Director at CWJobs, comments: "Our new research reveals that jobs in IT and tech are likely to offer a sense of security for those looking to enhance their employability and ensure they are adaptable and resilient to the new world of work. As businesses try to emerge from the pandemic in the best shape they can, it's clear that technology is key to achieving long-term success. The tech skills supporting innovations, services and companies across the UK remain the most important factor, feeding demand to an industry that already experiences an obvious skills gap.
"Tapping into this new pipeline of future talent will help alleviate the gap by supporting and offering training to those willing to learn and upskill. Going forward, businesses must be open to welcoming individuals into the industry, considering various job backgrounds, levels of experience and the transferable skills that new candidates can bring to the role and their company. In doing so, the tech job market will remain agile and robust, offering unique opportunities for all."
Image by Gerd Altmann