November 4, 2020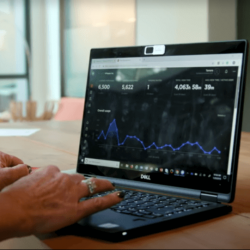 According to new research from Pluralsight, Inc. (NASDAQ: PS), the technology skills and engineering management platform, 43 percent of UK office workers are worried they will be left behind as companies seek new skills to cope with the rapid pace of change. Yet, despite these upskilling concerns, 47 percent have neglected learning any new skills since the lockdown began in the UK on March 23rd.
The lack of company support is a contributing factor to their worries, with 31 percent stating they've not been offered any skill development opportunities. This is despite 25 percent of office workers wishing their employer had offered access to online learning courses, rising to more than a third (38 percent) for those workers still on furlough.
As employees contemplate the long-lasting impact of the pandemic on their lives and careers, it's encouraging to note that nearly half (47 percent) of UK office workers chose to prioritise their mental and physical wellbeing during lockdown.
This is perhaps a viable solution to cope with their worries for the future, with 27 percent admitting they fear they will lose their job as a result of the pandemic. Meanwhile, other worries include facing a pay cut (20 percent) and their skills being made redundant as a result of technology innovation (13 percent). Despite this unease, just under one in five (18 percent) have prioritised upskilling and learning new skills during lockdown.
Concerns differ with age
It is the digitally-savvy younger cohort that are most fearful of the threat of technology. Nearly two-thirds (63 percent) of Generation Z (Gen Z – 16-24 year olds) and over half (53 percent) of Millennials (25-34 year olds) fear they will be sidelined as companies embrace the benefits of technology. This compares to just 28 percent for the over 55s [1].
This concern is reflected in what each generation prioritised during lockdown. On average, nearly a quarter of Gen Z (24 percent) and Millennials (23 percent) focused on upskilling and learning new skills, while this fell to just over one in ten (12 percent) for those aged 45 and older.
The youngest age bracket also had the biggest expectations from their employer, with 84 percent of Gen Z wishing that they had been offered some form of skill development during lockdown, compared to just 52 percent of the over 55s.
"To ensure businesses can flourish when growth returns, employers need to turn their focus back to upskilling."
"The pandemic has forced the business community to completely reconfigure their companies, becoming solely digital businesses and supporting a remote workforce virtually overnight. The results of the survey indicate that skill development may have fallen down the priority list as they adjusted to new working practises — another unfortunate consequence of the pandemic," commented Sean Farrington, Senior Vice President of EMEA at Pluralsight.
"To ensure businesses can flourish when growth returns, employers need to turn their focus back to upskilling. It's clear employees want to better themselves, so companies should capitalise on this enthusiasm by giving team members online learning tools. Investing in the workforce now will pay great dividends in the future and put businesses in even stronger positions than they were before the pandemic."
Looking to the future, UK employees identified the top five most in-demand skills their employer will need, including:
1. Professional development, including leadership skills (30 percent)
2. Cybersecurity (19 percent)
3. Data analytics (19 percent)
4. Cloud computing (19 percent)
5. IT Infrastructure (18 percent)
Despite cybersecurity featuring second on the list, only 13 percent wished their employer had offered access to cybersecurity courses during lockdown. This seems like a missed opportunity, especially considering that 46 percent of organisations suffered at least one cybersecurity scare since lockdown began.