August 5, 2015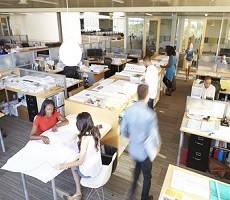 The impact of office relocation can no longer be solely measured in immediately tangible terms. This doesn't mean market factors can be dismissed, especially given CBRE's recent announcement that office vacancies are at an all-time low while rents skyrocket and favourable terms for tenants erode. However, in an era where 67 percent of workplaces cite employee attraction and retention as the most important driver of their workplace design, and 46 percent cite productivity, the human factor also can't be ignored. If such CBRE statistics aren't challenging enough, there are also the realities of the modern workspace to contend with, such as creating an environment that suits generations of employees. It's these human impacts that drive the importance of workplace design and urge top-flight businesses to use office relocation as a vehicle for positive change. Here are some of the latest findings.
Employee Engagement Helps
When Guardian News and Media (GNM) needed to move from their offices in Clerkenwell, London, they knew they were leaving behind a building rich in journalistic heritage. Even more daunting than an office relocation involving 5 buildings and 23 floors was how to do it without breeding resentment and fear in a culture already rocked by endless industry changes.
The key was to keep employees engaged and informed, while letting them actively contribute to workplace design. GNM used employee feedback to direct the designers of the new space, resulting in an environment that couldn't be further removed than the computer and desk arrangement traditionally associated with the newspaper industry. Breakout and soft-seating areas allowed for collaboration, numerous meeting rooms were created, and technology was leveraged to keep all staff engaged. The move was a remarkable success.
Collaboration is Key
There are numerous factors driving the need for collaborative spaces, not least of which is the rise of Generation Z, the fact that technology-savvy Generation Y'ers are firmly embedded in the workplace, and both are working under the non-conformist management approach of Generation X.
These three generations have discarded the traditional workspace and are not averse to moving on to environments that embrace collaboration. 'Connection' is the word increasingly used by workers across multiple industries, and a recent Business Week survey found that 82 percent of white-collar workers now require collaboration to work productively. This can't be achieved in the faceless anonymity of cubicles or in a suffocating conference room that needs to be booked hours in advance. Creating open, warm spaces where workers can connect has transformed businesses as diverse as PwC and Intel.
Demolishing Demarcation Lines
At first blush, you'd be forgiven for thinking that lines of authority are becoming non-existent. While this isn't completely true, an office relocation allows for businesses to transform the paradigms of traditional workplace design. Leading blogs are emphasising the importance of corridors that promote chance meetings, conference rooms that offer a welcoming environment, and the removal of reception areas.
A paper titled 'The Psychology of Collaboration Space' published for furniture manufacturer Herman Miller, found that separate spaces created for both gregarious and neurotic personality types enhanced productivity significantly. Even the concept of overly branded workspaces is giving way to areas of psychological comfort. In the near future, it's expected acoustics, lighting, digital graphics, and the introduction of plants in the workspace will be increasingly used to put workers at ease and create areas that promote different styles of working.
Who Needs a Desk Anyway?
It's no surprise that the word 'agile' is increasingly used to describe both modern workspaces and innovative business technology solutions. While smart building technology and increased use of cloud storage is an exciting prospect, it needs to be employed in a way that empowers workers. A recent survey by Deloitte found that 66% of business leaders are concerned that the modern work environment can be overwhelming.
Agile workspace solutions that leverage technology to empower workers and forge collaborative bonds will be those that succeed in the future. It's solutions such as these that will allow your office relocation to be of maximum benefit to your business, staff, and customers. With agility the watchword for the new era of business, an office relocation could become the best move you and your business has ever made.
_____________________________________

Lee Parsons is Marketing Manager of interior design and fit-out firm Office Principles.www.officeprinciples.com