February 11, 2022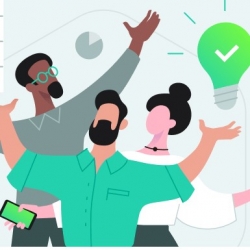 Employers feel far more responsibility for employee health and wellbeing than ever, yet formalised strategic action often remains unchanged, claims Aon's UK Benefits and Trends Survey 2022. The report suggests there has been a significant increase over the last year in the number of employers that strongly agree they have a responsibility for the health and wellbeing of their employees, rising from 20 percent in 2021 to just over half of all respondents (51 percent) in 2022. Forty-four percent agree they have a responsibility, and just 5 percent disagree or have no view.
Conversely, only 44 percent of employers have a formalised strategy, although 32 percent plan to have one within the next 12-18 months, remaining unchanged from last year. Additionally, 70 percent don't have a dedicated budget for a programme, just 8 percent measure return on investment of their Health and Wellbeing programmes, and less than half (46 percent) have an executive sponsor for their strategy.
The survey suggests that those with a formal wellbeing strategy have dedicated support for emotional and mental wellbeing (100 percent) and physical wellbeing (97 percent), while 75 percent provide structured financial wellbeing support. Social wellbeing is an increasing priority for employers (62 percent), highlighting their awareness of the importance of positive human connections and the growing societal issue of loneliness.
Another significant shift from last year's survey is double-digit percentage increases across all data sets when respondents were asked what company-specific data analytics are being used to inform and drive their corporate Health and Wellbeing strategies. Data is being collected from a variety of sources, including Employee Assistance Programme utilisation (75 percent), employee engagement surveys (68 percent), absence data (62 percent) and occupational health (OH) data (52 percent), as well as medical, income protection, life and critical illness data (42 percent).
Mark Witte, principal – health and risk at Aon, said: "This stand-out statistic of 95 percent of employers agreeing they have a responsibility for their employees' Health and Wellbeing is the most notable shift from previous years' surveys. It is easy to draw connections to the ongoing impact of the COVID-19 pandemic and the heightened awareness of ill-health, but the word 'responsibility' is important. Given the acceptance that the employer has a role to play in supporting employee wellbeing, it is disappointing that this year's research shows no change in terms of the number of employers with a formal strategy in place or planning to do so in the near future".