April 24, 2017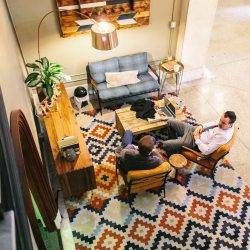 In a deal of enormous significance for the commercial property and workplace sectors, IBM has agreed a deal with coworking giant WeWork to take on all the space at its 88 University Place office in New York. Although originally targeted at startups and freelancers, especially those working in the creative and technology sectors, a growing number of corporate clients are seeing the appeal of coworking space in a fast changing world and now make up over a fifth of WeWork's membership worldwide. Meanwhile, in moves that are sure to have major implications for the corporate real estate and facilities management market, WeWork has also announced plans to become a major real estate investor and introduce a wider range of FM services. The firm already operates in 135 locations spread across 44 cities in 14 countries.
IBM is set to move up to 600 employees to 88 University Place. The agreement means the building will be owned, designed and managed by WeWork, confirming that the technology giant will become one of the first major firms to occupy a large corporate office as a service.
The company claims it currently has five buildings globally that are occupied by just one or two companies, while large companies with more than 500 employees account for 22 percent of its membership worldwide. In February, WeWork restructured the company, bringing on executives to run three distinct divisions, including a new enterprise division under which deals like IBM would fall. WeWork signed Amazon to take two-thirds of a location in Boston's Back Bay a week later. In November of last year, Microsoft agreed to buy memberships for 300 employees. HSBC have also rented 300 desks in one of WeWork's Hong Kong offices.
WeWork offers corporates four options: either sign a membership deal to take a building leased by WeWork, pay WeWork a fee to build out and manage the firm's existing offices, or lease a floor or smaller office. All options allow clients access to WeWork's online member network and use other locations. The idea is that large clients may prefer an all-inclusive managed office space as a short-term commitment to a traditional lease.
The coworking company is also expanding into becoming a real estate investor with plans to launch a fund to buy properties. Last month, Japanese investment firm SoftBank invested $300 million in the firm, valuing the company at more than $17 billion.
WeWork is also building on its facilities management offerings as it seeks to offer clients a comprehensive package of services 'straight out of the box' as it puts it. The intention is to create a model of the workplace that has much in common with software-as-a-service technology applications.
The company currently has 12 offices in London, and has already announced five new locations which will open in the coming months, including one by Tower Bridge. By the end of the year it will have 20 offices in the capital, and it is also in talks to open its first UK office outside of London, according to the firm. It has around 14,000 UK members, all of whom pay a monthly fee to use desk space, or private offices in its offices.