August 3, 2018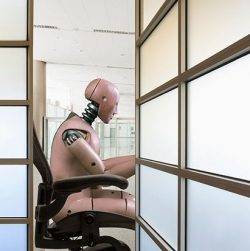 Fears of robots taking workers' jobs appear to have lessened over the last year, a new report has suggested. Research from Perkbox and SEMrush examined fears of robots at work according to online searches from January 2015 to June 2018 in the UK and found that in just one year, from 2015 to 2016 the phrase 'will robots take my job?' increased from zero to 1,600 average monthly searches. In 2017, the phrase was searched 197,800 times/monthly on average. In 2018 so far, the average has dropped but it remains relatively high regardless (57,833 searches). According to online searches with keyword 'robots' and 'work,' people are gradually becoming more concerned about what jobs robots will replace first. The phrase 'what jobs will be replaced by robots? was rarely searched in 2015. However, in 2016-17 the number rose from 200 searches/monthly on average (2016) to 2,400 on average in 2017 (a 1,100 percent increase). On the other hand, 'Can robots replace humans?' has been a huge concern for UK citizens for several years now. In 2015 this represented 1,700 of average online searches. This figure increased by just over 47 percent in 2016, before falling to 1,700 searches in 2017 and a further 13 percent on average this year.
When looking at industries and industry subsectors, it's interesting to see which ones are getting most traction in this robots vs. humans workplace debate:
In banking and finance for instance, the UK for quite a while felt uncertain of the role robots could play in replacing humans, particularly when it came to forex trading. 'Do forex robots really work?' was searched 1,000 times on average in 2015. This average figure increased by 20 percent in 2017 and then went back to 1,000 in 2017, still remaining pretty high. This has recently changed with search volumes in Jan-June 2018 at 83 on average.
"There's certainly no shortage of headlines about the threats new technologies are posing to our once established jobs and workplaces said Chieu Cao, Co-founder and CMO at Perkbox.
"However, I'm a strong believer that regardless of how much technology advances, a clear rational decision-making process will always be indispensable in the workplace.".
Olga Andrienko, Head of Global Marketing at SEMrush says: "Search can be an excellent indicator for what is concerning employees across a variety of industries. The search volumes show that people are indeed concerned by the effects of automation on their workplace, so this may be a topic for HR departments to actively address. All companies need to take note and pull out learnings from Google search."