November 20, 2020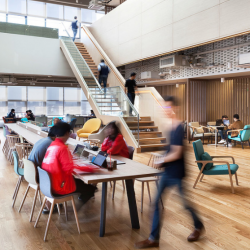 A survey issued by architecture, design, and planning firm Gensler suggests that rumours of the demise of the office may be greatly exaggerated. However, over two-thirds of UK workers don't want to go back to their old working lives either, preferring a hybrid working model, spending between 1 and 4 days in the office each week.
The survey claims that those in a hybrid model are currently having the best experience. They are more likely than people in other work scenarios to feel comfortable experimenting with new ways of working, to feel as if working during the pandemic has had a positive impact on their creativity, and to feel more overall satisfaction with their job.
The hybrid model may also have an impact on perception—those in a hybrid model are more likely to believe their workplace offers a great experience including higher scores rating job satisfaction, personal creativity, and wellbeing. Ultimately, the hybrid model allows employees to match their environment to the work they need to do, creating an optimal mix of work locations.
Detailed in Gensler's UK Workplace Survey 2020, these new findings track workplace models in the months since the start of the pandemic with emotional and social engagement key to workers' needs. As of August 2020, only one quarter of UK professional workers have returned to the office full-time; half continue to work from home full-time as a result of the COVID-19 pandemic. For the vast majority of these workers, the current work model is a result of company or government policy rather than individual flexibility or choice in the style of working. But as those workers look to the future, many would choose a work scenario that is different than their current state, creating an unprecedented demand for change to work as we know it.
Productivity is linked to connection and collaboration
According to the survey, conducted between July 9th and August 5th 2020, of those working in the office full time a substantial 65 percent of their time is spent collaborating, learning and socialising with those around them, in comparison to merely 37 percent of time when working from home. Conversely, time spent focusing is far greater at home at 63 percent, while only 35 percent of time in the office is spent on focused work.
The hybrid model, which provides UK workers with the strengths of both home and office environments, is therefore significantly preferred following new experiences of working from home during the pandemic. Allowing employees the freedom to experiment with new modes of working, balancing both the demands of their job and personal life, contributes to higher rates in employee performance, significantly outweighing those who spend all their time at the office or at home.
The future of the workplace: Designing for culture is the new density
The survey demonstrates that while the social nature of the office is critical – whether it becomes a place primarily for connecting with colleagues, collaborating on a project, or for personal growth through mentoring – the workplace as a mandatory destination for productivity is unlikely to return as a full time requirement. Such findings have led Gensler to rethink the purpose of the workplace, and the associated implications for workers, human resource directors, chief people officers, business leaders, designers and developers.
"More so than ever before, the workplace has to be about people. We need to re-connect with what makes us human."
Julia Simet, Managing Principal, commented: "The world has changed, but one thing is clear, 4 out of 5 respondents do want to return to the office in some way each week and 67 percent of the UK workforce want the flexibility to choose not only where they work but when they work there. The hybrid model will demand that workplaces are designed to optimise the activities and experiences of their employees that cannot be fulfilled at home. Places of work will need to serve workers and organisations by bringing their people together and facilitating the connections that inspire creativity, innovation, learning, growth and belonging."
Success therefore lies with the capacity and velocity of businesses to make change. With a workforce seeking flexibility, the workplace has to be in service to its workers like never before. Old measures of productivity linked to density have become obsolete, with culture key to success in the new workplace measured on human interaction and emotional engagement.
Jane Clay, Gensler Principal, Strategy Director, commented: "More so than ever before, the workplace has to be about people. We need to re-connect with what makes us human. As we sit at home, we need to consider how we want these human connections to unveil and what types of space and experiences will best support them. It's clear that offices will be best used as places to foster collaboration, connection and experience, which cannot be replicated in the home. Our learnings from this survey, which shows the rapid shift in mindset as the UK workforce has adapted to working remotely through COVID-19, will greatly influence the way we approach office use, planning and design to prioritise socialisation and ultimately productivity."
Image: Gensler