November 10, 2021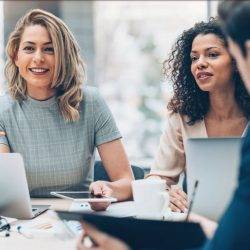 Throughout the pandemic, we have had to constantly adapt to new models of work and a new working culture. And what makes this process even more challenging is that we're having to work against a backdrop of uncertainty at every turn. Business leaders that are emerging from the pandemic successfully have been clear on priorities throughout and know how to balance them. This is certainly easier said than done but is integral to leadership as we enter the next chapter of workplace transformation.
Top executives are faced with the most important job of their generation: that of creating a workplace that is true to employee preferences, while balancing business performance. The way we manage change and implement sustainable working culture has never been more multi-dimensional and complex as it is today. And while the considerations of the workforce remain top of the agenda, it's time to bring the needs of the business – and of its clients – in line.
Striking the right balance
The last 18 months have fundamentally changed our traditional ways of working. Businesses have had time to reflect and have come to realise that employee wellbeing must be a top priority. According to our recent research on the future of the workplace, 76 percent of senior executives and business owners said that they would prioritise employee wellbeing over financial and commercial concerns (46 percent). This is definitely a step in the right direction and goes to show that business leaders are aware of the massive contribution employees make to the financial health of an organisation.
Three quarters of executives and business owners say they would prioritise employee wellbeing over commercial concerns
The pandemic has demonstrated that no business can remain profitable without a healthy and happy workforce – one is equally reliant on the other. Offering remote working is no longer a perk but a necessity in order to retain talent, and several businesses have already set plans for a hybrid working model in motion. In fact, working from home is now an outdated concept. Employees want the option of being able to work from anywhere, and while it may seem like you're losing control, it is the more mature approach when addressing new ways of working. Businesses need to instil trust in their staff and realise that their people know where and how to produce the best work.
For the businesses proving slow to react, they run the risk of an unhappy workforce with the growing temptation of seeking out more appealing working environments elsewhere: where a certain degree of autonomy is welcomed, for example. Such distraction can also give rise to disgruntled clients or indeed poor product development and innovation, depending on your focus. Now is the time to avoid learning this lesson the hard way and proactively take steps to avoid this detrimental ripple effect across your business.
Continuing against a backdrop of uncertainty, business leaders must ensure that they have the right ingredients in place to build and nurture supportive teams. But what does this look like? How can managers motivate their people to remain happy and productive and in turn, achieve the commercial objectives of the business?
Instil trust, define a collective purpose
If last year was about firefighting their way through the every-changing challenges of the pandemic, business leaders are now faced with the task of creating a 'new normal' for working culture. With employees splitting their time between the office and working remotely, those in charge need to remind their people about the collective goal and the integral role each and every person plays.
For an increasing number of businesses and employees, the pursuit of profit is no longer enough. Among the nearly 1,200 employees we surveyed a couple of months ago, 45 percent ranked 'team, people and culture', followed by flexible working (39 percent) over competitive salary and bonus as the most important elements of a job package. More than ever, employees want to feel connected with their teams, their managers and the companies they're a part of. They want to be part of something that goes beyond profit and has a clear purpose. Those who feel engaged and connected are more likely to stay longer and perform better, contributing to the growth of the business.
Ultimately, the pursuit of profit without due attention to company culture and employee wellbeing is counter-productive. The sooner leaders realise that one reinforces the other, the better for everyone.
Communicate more, not less
Leaders have two crucial areas to look after – their people and clients or end customers. If the former are happy, it will have a positive impact on the overall business. And in order to ensure that employees are motivated and fulfilled, business leaders need to communicate with them. Regularly.
Employees are not drawn to traditional office perks anymore. They simply want to be recognised, listened to, and understood. With the hybrid working model taking off, workers want their management to communicate more, not less. It's down to business leaders to build a company culture that is not divided based on where someone chooses to work. It should be united by a collective goal, regardless of working style or location. It's therefore crucial to define that goal and articulate it well to every individual within the firm.
Without a doubt, there is a symbiotic relationship between a company's workforce and its commercial success. As we now transition to the 'return' phase, both employees and clients are expecting more from the businesses they're associated with. Leaders need to strike the right balance between managing employee experience and meeting commercial objectives. One way to achieve this is by setting, defining, and inspiring the workforce to unite around a common goal. Leaders that embrace this approach and responsibility, will be in the strongest position to nurture their people and their business now, and in the future.