February 9, 2023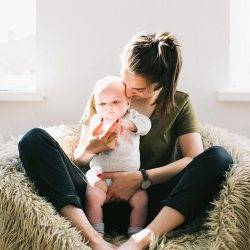 A new report claims that many working mums have felt forced to limit their careers as a result of their employer's inflexible and outdated working policies and cultures. The Shift from Worker to Working Parent sponsored by WOMBA (Work, Me and the Baby) and carried out by Hult International Business School (Ashridge) interviewed working mums and dads who had recently taken extended parental leave about the experiences they faced as they transitioned to parenthood in an organisational context.
Many of the mums interviewed felt forced to choose between being a mother over having a successful career. For mums who had to make tough decisions about their work-home balance, many felt they could not push back against their employer and had no choice but to accept the conditions presented to them, such as working full-time hours or in the office.
Some mums, for example, had to choose lower-paying roles or a less appealing organisation because it offered flexibility or was closer to home or childcare. Other mums spoke about having to limit their career development and work in roles that did not allow them to use their skills or achieve their full potential.  One mum shared how she had to work long hours to balance both the role of worker and parent, starting her day at 5am and finishing at 11pm. Another interviewee said they felt forced to quit their job after contractual conditions stipulated their only option was to return to work full time after maternity leave.
The research suggests that many mothers are left feeling stuck, frustrated, angry and disappointed that they had to give up parts of who they were to be a working mum.  The research study also suggests that working mums restrict the identity they share in the workplace to minimise the negative impact on their career.
Despite understanding the importance of bringing one's whole self to work, several mums described the need or want to conceal their parenting identity and the parenting challenges they face through fear of being judged negatively, for example as incompetent or incapable.
All mums interviewed shared the importance and challenge of trying to balance the identity of a working mum and a parent. One mum said she keeps her camera off during remote meetings because she fears being perceived as disengaged from work. Another mum worried about the need to prove that she can do everything and be a 'supermum'.
Dads are challenging insubstantial policies and pioneering change
Unlike mums, the research study revealed most dads did not have to choose between career and parenthood, instead feeling the two could co-exist. When dads did face barriers in their transition to parenthood, they felt able to speak up and push back against their employer until they achieved the outcome they needed or wanted.
The research suggests that dads frequently challenged the formal HR system and inadequate parental leave policies to negotiate paid time off and the flexibility they need with childcare. An approach in direct contrast to mums who were more likely to adhere to rules and persist with dealing formally with HR.
In many ways, the research suggests dads have taken on a pioneering role, with many being the first they knew to take extended parental leave. Many dads feel they have become role models for others in their organisation. One interviewee said: "For the majority, it's my generation who are leading this… we will be the role models in the future."
The study also claims dads did not have to think too much about how much of their fatherhood identity to share in the workplace. In comparison to mums, dads found their new parental identity was a benefit, often being praised, and in some cases, seen as a hero by colleagues when they took parental leave or adopted a flexible way of working to care for their children.