March 13, 2018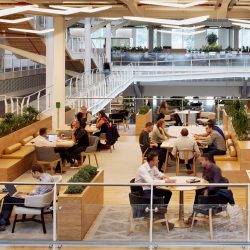 Workplace author, blogger and consultant Neil Usher joins 3edges director Ian Ellison again on the day of his 'The Elemental Workplace' book launch; also the day the British Institute of Facilities Management (BIFM) announce their proposal to become the Institute of Workplace and Facilities Management (IWFM). Both of these very different, but exciting developments for the workplace discipline are discussed at length, and Neil offers insightful critique as always. The conversation ends up at one of the new frontiers for the way we work and the places we do it – and global society in general – the ethical challenges we face from emerging digital technologies. Further links from the discussion can be found in the show-notes on the podcast page of www.3edges.co.uk, where you can also find a free download of the Workplace Leadership Manifesto which 3edges co-wrote and published with Neil this January.
Neil was the first ever guest when the podcast launched back in 2016 when he was still Workplace Director at Sky, just before the new Sky Central building, 'one of the world's largest, most progressive and amenity-rich agile environments' started winning awards. Neil left Sky several months later to develop his writing and consultancy aspirations. His initial conversation with Ian is still available as episode 2. The show is now also available on Spotify, as well as Apple Podcasts, Acast, PodBean and CastBox.
Image: Sky Central designed by Hassell. Photographer Mark Cocksedge.