March 13, 2017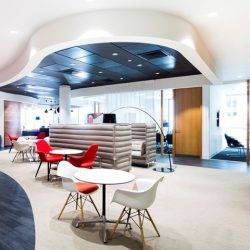 Corporate real estate occupiers must do more to embrace flexible working and identify the sources of competitive advantage offered by their workplaces, according to the newly published Corporate Real Estate (CRE) 2017 trends report from JLL. The study highlights the key issues affecting corporate property needs and requirements this year, and offers occupiers some advice on how to deal with them, including how real estate strategy affects organisational perfomance. As well as flexible working and real estate strategy, the report also considers the consequences of automation, which it suggests will have a significant impact on the way workplaces are designed, occupied and managed within just a few years,
The key points areas covered by the report include:
Corporates must embrace different ways of working: flexible workplaces and a merging of environments continue to both challenge, and provide advantages for, corporates. With more than 20 million people worldwide using third places (cafes, flexible workspaces) as part of their workweeks and 30 percent of corporate real estate portfolios looking to comprise flexible workspaces by 2030, corporates must be ready to incorporate agile working as an integral part of their workplace strategy in order to attract and retain a new breed of talent.
Location and real estate portfolio strategies have a huge impact on corporate efficiency: 57 percent of talent acquisition leaders cited competition for top talent as their main concern for 2017. The challenge for corporates is to find a location and an office that works for their business, but also helps them attract and retain the star employees that they seek is crucial to enable them to remain ahead of the competition.
Automation is redefining roles, business processes and real estate needs for corporates. 85 percent of CEOs are considering the integration of automated processes over the next three years. By 2019, 25 percent of tasks across every job category will be automated, with 9 percent of jobs at risk of being totally automated and 50-70 percent at risk of being totally transformed. It's fair to say that the world of work is changing and corporates must take advantage of automation to influence and transform their real estate needs.