January 14, 2016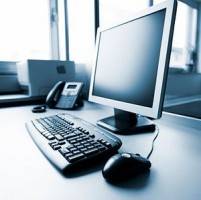 Worldwide PC shipments totalled 75.7 million units in the fourth quarter of 2015, an 8.3 percent decline from the fourth quarter of 2014, according to preliminary results by tech market analysts Gartner. Over the year, PC shipments totalled 288.7 million units, an 8 percent decline from 2014. "The fourth quarter of 2015 marked the fifth consecutive quarter of worldwide PC shipment decline," said Mikako Kitagawa, principal analyst at Gartner. "Holiday sales did not boost the overall PC shipments, hinting at changes to consumers' PC purchase behaviour. On the business side, Windows 10 generally received positive reviews, but as expected, Windows 10 migration was minor in the fourth quarter as many organizations were just starting their testing period. All regions registered a decrease in shipments. Collectively EMEA, Japan and Latin America saw their markets reduced by nearly 10 percent in 2015."
Gartner's outlook for PC shipments in 2016 is for a decline of 1 percent compared with 2015, with the potential for a soft recovery in late 2016. Ms. Kitagawa said the PC market is still in the middle of structural change which will reduce the PC installed base over the next few years.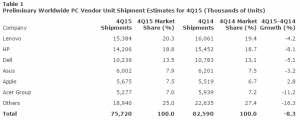 In the fourth quarter of 2015, Lenovo registered a worldwide PC shipment decline for the third consecutive quarter. However, Lenovo declined less than the industry average, and it extended its lead in the market. Lenovo accounted for 20.3 percent of worldwide PC shipments in the fourth quarter of 2015 (see Table 1). Lenovo did particularly well in North America to offset shipment declines in EMEA, Latin America and Japan.
PC shipments in EMEA totalled 22.5 million units in the fourth quarter of 2015, a decline of 16 percent year-over-year. In Western Europe, some countries, such as the UK, showed solid Windows 10 promotions during the holiday season, and shipments in the French market remained good. Overall high inventory levels plagued Western Europe. In Eastern Europe, the PC market experienced modest growth in low-single digits, driven by consumer demand for new hybrid devices and PC replacements to move to Windows 10.
The Asia/Pacific PC market reached 26 million units in the fourth quarter of 2015, a 1.5 percent decline from the fourth quarter of 2014. Buyers did not rush to replace with newer PC models with Windows 10. PC vendors looked for profitability over shipment volume, focusing on segments such as gaming PCs; bundling of desktops with large monitor screens and ultramobile device models. Preliminary results indicate that the China PC market declined 4.7 percent in the fourth quarter of 2015 compared with a year ago.
For the year, worldwide PC shipments declined for the fourth consecutive year, which started in 2012 with the launch of tablets. "In 2015, local currency devaluation also played a key role in the market conditions," Ms. Kitagawa said. "EMEA, Latin America and Japan faced a major impact from the devaluation, showing double-digit declines in 2015. In contrast, the U.S. and Asia/Pacific experienced minor declines of almost flat to low single-digit declines as the currency issue did not affect these regions."