December 9, 2015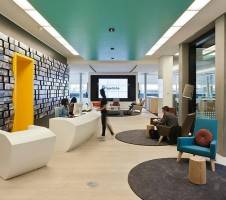 Job site Glassdoor has announced the winners of its annual Employees' Choice Awards, honouring the best places to work across Europe and North America. The Awards are based on the input of employees who provide anonymous feedback by completing a company review about their job, work environment and employer. This year, Glassdoor has expanded the awards programme to include six categories, highlighting the Best Places to Work across the UK, France, Germany, US and Canada. This is the second time Glassdoor has identified the best places to work in the UK and the first time in both France and Germany. Winners are ranked based on their overall rating achieved during the past year based on a five point scale. According to Glassdoor, the top five UK Best Places to Work in 2016 are, in order: Expedia (average 4.4 rating), Hays Plc (4.4 rating), AKQA (4.2 rating), GE (4.2 rating), Schuh (4.1 rating).
The 2016 list features winning employers across diverse industries, spanning technology, banking, retail, FMCG and engineering. Interestingly, of the UK-headquartered employers on this list, only half are based in London, with Oxford, Cambridge, Reading, Luton and Livingston-based companies all making an appearance.
"The Glassdoor Employees' Choice Awards are the only workplace awards that recognise employers where people love to work solely based on the authentic voice of those who really know a company best – the employees. For anyone hoping to find a job and company they love, these companies stand tallest for providing outstanding work environments and company cultures," said Robert Hohman, Glassdoor CEO and co-founder. "I am proud to expand these awards across North America and parts of Europe this year and to celebrate the 2016 Glassdoor Employees' Choice Awards winners in earning this tremendous achievement."
AKQA is among 15 employers debuting as Best Places to Work this year, along with GE (#4, 4.2 rating), Schuh (#5, 4.1 rating), Oxfam (#6, 4.1 rating) and ARM Holdings (#7, 4.1 rating), among others. Google, last year's #1 employer with a 4.4 rating, ranks #8 this year (with a 4.1 rating) and is among only ten employers that have made it on to this list for two years in a row.
When an employee submits a company review on Glassdoor, he or she is asked to give their opinion on some of the best reasons to work for their employer (pros), any downsides (cons), and is encouraged to provide advice to management. Employees are also asked to rate how satisfied they are with their employer overall, rate their CEO, as well as rate five key workplace attributes, including career opportunities, compensation & benefits, culture & values, senior management and work-life balance. In addition, employees are asked whether they would recommend their employer to a friend and what their opinion is of the employer's business outlook in the next six months. At a minimum, employers considered for the UK list must have received at least 25 company reviews during the eligibility period.
A full list of the winners by country is available at the following links:
Complete results: Best Places to Work 2016 – UK
Company Rating: 4.4
"Strong, friendly work culture. Work life balance is seen as very important by all. Very supportive management team. So many perks! Free breakfast once a month, travel, health etc." – Expedia Finance Manager (London)
Company Rating: 4.4
"Hays is an amazing company to work for. It is a friendly environment, great for progression and opportunities for your career. Training Programmes and their careers fare are very insightful and made me choose Hays! If you don't believe me come see for yourself." Hays Travel Administrator (London)
Company Rating: 4.2
"Great projects, fun corporate events, nice touches like free fruit and snacks, top management, enjoyable work environment with on-site gym and training, awesome client list." AKQA Web Developer (London)
4: GE
Company Rating: 4.2
"Training first class, challenging assignments, strong senior leadership with critical structure for finance." GE Site Leader (Cheltenham)
Company Rating: 4.1
"Good pay for a high street store. Very flexible ideal for students. Good discounts. Great people. Good management. Latest technology making it easier to assist customers." Schuh Limited  Employee (London)
6: Oxfam
Company Rating: 4.1
"With a few employers to compare against Oxfam is truly a great place to work. With such a huge range of business and programme activities I'm amazed at how it operated together, and how everybody felt they had a stake in the success of the organisation. From top to bottom people were really committed to doing their best for the organisation." Oxfam Executive (Oxford)
Company Rating: 4.1
"Good work/life balance. Technically challenging and fascinating work. Innovation and proactivity recognised and rewarded. Very friendly. Some very, very bright people!" ARM Holdings Employee (Cambridge)
Company Rating: 4.1
"Career-wise this is a great place to work. There are opportunities for anyone who is willing to build a reputation. The work itself, the smart people and the perks: a Japanese restaurant serving up Asian food every day for free! Google Senior Software Engineer (London)
Company Rating: 4.0
"Improved performance focus over the last couple of years. Cross-functional working and team development are high priorities. Great leadership and clarity of vision. Work life balance and flexible working are brilliant." Unilever Category Manager (Leatherhead, Surrey)
Company Rating: 4.0
"They protect their employees, fair and consistent and very good salaries" London Underground IM Training Coordinator (London)
Company Rating: 3.9
"A brilliantly driven business with an engaging and open senior leadership team, no ivory towers here and a business that career hungry, driven and talented individuals can thrive in. A rewarding environment where employees can earn good money and get the career recognition they deserve." PageGroup Manager (Reading)
Company Rating: 3.9
"The greatest thing about working for easyJet is the fact that no two days are the same, and each day is presented with new challenges. All staff are willing and always able to offer to help. Management are fantastic and really understanding." easyJet Cabin Crew (Stanstead)
Company Rating: 3.9
"Fantastic team, a truly principled leadership and a very flexible work environment." Arup Fire Engineer (Sheffield)
Company Rating: 3.9
"Management are flexible and treat staff like adults. Always a good atmosphere and broad range of staff." Amec Foster Wheeler Engineer (Glasgow, Scotland)
Company Rating: 3.9
"Great culture, smart but supportive and collaborative bunch of colleagues. Generally fair treatment of employees. Super transparent and open even in most sensitive topics." Royal Dutch Shell Mid Senior Manager (London)
16: John Lewis
Company Rating: 3.9
"As every employee of the firm is considered a partner, everyone gets a say in how the business is run. This can be minute details to the christmas advert but all partner opinions are vitally important." John Lewis Stock Management Partner, (London)
Company Rating: 3.9
"Great leadership and one of the best Banks to work for. Good Salary and work life balance. Would highly recommend." J.P. Morgan Executive Director (Bournemouth)
Company Ratings: 3.9
"Cisco genuinely cares for the society and works towards the betterment and upbringing of the society, which is one of the best things I like about Cisco." Cisco Help Desk Analyst (Reading)
Company Ratings: 3.9
"There are many resources available to develop your technical and interpersonal skills. You are working with very smart people and there are opportunities for those who are adaptable." Goldman Sachs Vice President (London)
Company Ratings: 3.9
"Credit Suisse has a great culture for pushing employees to do their best while still being very friendly. There is politics but I've found it to be minimal." Credit Suisse Business Analyst (London)
Company Ratings: 3.8
"Strong emphasis on development and especially self-directed development. Very easy to manoeuvre into the industry you most enjoy, which makes it easier that not might appear to carve out a niche for yourself." PwC Associate (London)
Company Ratings: 3.8
"The training is second to none and they take you from starting point to a highly knowledgeable digital marketing consultant with an in depth knowledge of the marketplace at great pace."  Yell Digital Marketing Consultant (Belfast, Northern Ireland)
Company Ratings: 3.8
"Plenty of training opportunities and a dynamic career progression throughout the company. Global reach helps you get exposure to different ways of working." Proctor & Gamble Employee (location n/a)
Company Ratings: 3.8
"The whole business from CEO down appear to be people focused and compared to other organisations in the market research industry this certainly seems to be backed up by actions." Kantar Worldpanel employee (London)
Company Ratings: 3.8
"We are like a big family and there are always people to talk to and are willing to help you. I can honestly say I don't see my shift as another day at work instead it's a day with another one of my families! I wouldn't swap my job here for the world." Waitrose Customer Service (Bristol)