January 6, 2016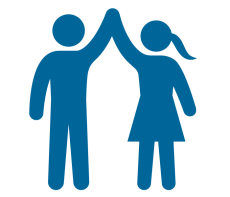 The increasingly complex nature of the career and workplace choices made by men and women and the specific challenges they face is the subject of two pieces of research presented at this week's British Psychological Society's Division of Occupational Psychology annual conference in Nottingham. The authors of the admittedly small scale studies conclude respectively that men in what are generally considered typically female-dominated occupations tend to value the social aspects of their career more than financial rewards and that ambitious professional women would benefit from a better understanding of how to build, maintain and use their social capital to succeed in their attempts at reaching the top of their professions. Both topics have been raised before but it's interesting to see yet more research which challenges the often overly simplistic assumptions that seem to go hand in hand with gender issues at work.
In the first paper, 'Reconceptualising Career Success for Males in two Female-dominated Occupations: A Case Study of Primary School Teaching and University Administration', Dr Kazia Solowiej, Dr Catharine Ross, and Professor Jan Francis-Smythe of the University of Worcester and Dr Catherine Steele of the University of Leicester interviewed a total of 34 men including 15 primary school teachers and 19 university administrators. They discussed their career history, experience of success and the support they received from their organisations. The interviews revealed that their definitions of career success included features other than pay and promotion such as building friendships with colleagues and flexible working that enabled time for family and social commitments.
For male primary school teachers career development was reflected in the varied challenges brought by pupils.  They also valued recognition of success from their colleagues, but some felt pressured to apply for opportunities for career progression, which was contrasting to their actual career goals.
Dr Solowiej said: "It is often assumed that men value careers with regular opportunities for promotion; however our study demonstrates that this isn't always the case. Men who work in typically female-dominated occupations value success in ways that went beyond salary and promotion. Organisations need to understand that some of their male employees may not be motivated purely by promotional opportunities. Therefore it is important that gender stereotypical assumptions about success are challenged so we can understand what is important to individuals within different occupational contexts."
The second study was carried out by postgraduate student Natasha Abajian and supervised by Dr Ruth Sealy at City University London. The researcher interviewed 12 women employed as a Chief Executive Officer (CEO) or Managing Director (MD) in the communications industry to explore their perceptions of social capital and how much they believed it was instrumental in helping their careers. The interviews were recorded and analysed.
The results showed that the women perceived their social capital to have contributed to their appointments. However, the findings of this study also revealed a difference in how the participants perceived their ability to build, maintain and use social capital and how they perceived women in general to do so. All of the participants reported that women generally lacked the ability, knowledge or opportunity to accrue or use their social capital in the context of senior-level promotion.
Natasha Abajian said: "Access to social networks typically differs for men and for women. Usually women have less access to networks typically associated with career progression. These networks or 'who you know and who knows you' are responsible for a large percentage of career progression so limited access could be a barrier to women's opportunities. It's interesting to examine the perspectives of women who have broken through the glass ceiling. However, I believe this phrase, by depicting a single obstacle at a high level, fails to account for the subtle inequalities that arise throughout a career journey.
"The continual use of this metaphor may encourage women to behave in a stereotypical gendered way rather than challenging the status quo. The participants in this study acted in a non-stereotypical manner and they succeeded in being appointed MD/CEO. Women who want to progress to the highest levels need to be aware of the value of social capital and know how to use this to their advantage."