October 29, 2020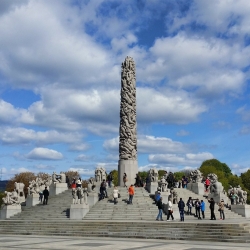 Cloud-based access control company Kisi has released their 2020 work-life balance city index, highlighting how major cities from the 2019 edition have since been impacted by the global pandemic. While every city in the index suffered economic, social and structural consequences, the results of this year's edition claim that having a safety net in place for workers made a large difference in how a city navigated the crisis.
Kisi first explored the topic in their 2019 study by determining the cities whose residents had the most well-rounded work-life balance, which was gauged by looking at work intensity, livability and the well-being and rights of inhabitants. The company did not design the study to be a city livability index, nor intended it to highlight the best cities to work in; but instead as an indicator of a city's ability to provide a healthy work-life balance for its residents, while providing opportunities to relieve work-related stress.
Since the beginning of the COVID-19 pandemic, however, many employees have had to adjust to remote working due to lockdowns, while also trying to maintain balance between their work and life commitments. Considering that economic conditions have changed drastically in many cities since then, the company decided to go further in this year's expanded edition by examining whether some cities were more impacted than others by the pandemic. The resulting index offers a look into the cities that have best managed to maintain and promote the structures needed for a healthy work-life ecosystem amidst the COVID-19 pandemic.
How the study was conducted:
To begin the study, a list of 50 in-demand metropolises known for attracting professionals and families for their work opportunities and diverse lifestyle offerings were chosen. Each city's overall work-life score was then evaluated based on a series of factors such as the amount of time a person dedicates to their job — taking into consideration total working hours, commuting, and vacation days used.
Next, Kisi researchers measured the extent to which different types of individuals in a city receive equal treatment, evaluating their access to state-funded health and welfare programs, as well as institutional support for equality and social inclusivity. Each city's livability score was then determined by examining its affordability as well as citizens' overall happiness, safety, and access to wellness and leisure venues — to assess whether their residents can enjoy their environment after office hours.
Finally, Kisi looked into the effect of the COVID-19 pandemic on a city's work-life balance in several key areas: the restriction of movement, the severity of lockdown measures, the overall economic impact, and the projected percentage change in employment as a consequence.
The result is an index of 19 factors determining the work-life balance of 50 cities worldwide, recognizing those who encourage a healthy balance both directly and indirectly through policies and urban infrastructure, while also bringing attention to those who have been adversely affected by the pandemic.
Findings:
The table below is a sample of results for the top 10 cities which had the highest scores for work-life balance in the expanded 2020 Index, compared with their 2019 ranking.
All scores are out of 100, with 100 being the highest possible score, and 0 being the lowest. New cities added in the 2020 Index are marked n/a for the 2019 ranking.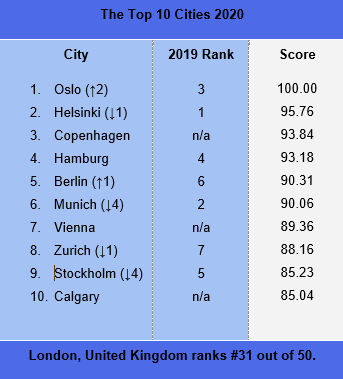 "A lot of employers may have imagined that mass remote working would lead to employees slacking off"
"A lot of employers may have imagined that mass remote working would lead to employees slacking off without the watchful eye of management or the confines of the physical office, but this big shift during the pandemic has proven the opposite. Research is now showing that people are actually more likely to overwork themselves in order to prove their productivity and availability to higher ups when not at their regular desks: this so-called phenomenon of 'Electronic Presenteeism'," comments Bernhard Mehl, CEO & Co-Founder of Kisi. "While remote working has a lot of benefits in terms of more flexibility and less commuting time, there is also a very real danger that employees slip into an unhealthy balance between 'working' and 'home' hours without the physical boundaries of the working environment. We wanted to bring attention to the issue of overworking in this work-life balance study once again because it's something that while always a threat to people's mental and physical wellbeing, seems more pressing than ever before."
Please find the full table of data and complete methodology here:
Image by Reinhard-Karl Üblacker