August 13, 2021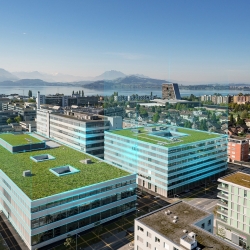 Growth in key tech sectors is set to rocket after a landmark $1 trillion infrastructure package bill passed in the US Senate, part of a comprehensive $3.5 trillion plan within President Biden's post-COVID Build Back Better initiative and paralleling the UN's Race To Zero campaign. There had been an upward trend in share prices for companies in several tech sectors already, but Pitchbook research identified nanotechnology and digital twin technology as most likely to gain from the new bill – the largest public investment in America's infrastructure for decades.
Digital Twin technology creates virtual replicas of buildings and infrastructure with accessible real-time data; this cutting edge option will enable massive savings of at least $280 billion for city planners globally over the next five years, according to ABI Research in August 2021. Senior Economist at Capital Economics, Michael Pearce, said: "Spending will take a few years to ramp up and will in any case be spread over the rest of the decade."
Nanomaterials, which account for 40 percent of the Nanotechnology market (set to grow from $54.2 billion in 2020 to $126.8 billion by 2027 according to Pitchbook), allow architects and project managers to greatly improve materials used in infrastructure, through greater durability and flexibility as well as reducing or eradicating the carbon emissions – a major driver in the Race To Zero.
Paul Sheedy, Co-Founder of the World Nano Foundation, an international not-for-profit organization for the commercialization of nanoscale technologies, said: "The built environment is transforming the materials it uses, to a sustainable model that not only safeguards our future but also brings significant financial benefits to the infrastructure lifecycle and maintenance of our urban spaces. "Currently, more than 70 percent of global carbon emissions are produced by the world's cities (source: UN) and their infrastructure. Therefore, the adoption of Nanotechnology and Digital Twins can allow infrastructure to improve without negatively impacting the environment."
Building costs
According to a recent report from Ernst & Young, other major financial benefits from using Digital Twin technology include greatly reducing operating costs of buildings and infrastructure by 35 percent, with an additional 20 percent boost in productivity, while also allowing carbon emissions to reduce by 50-100 percent.
The Digital Twin tech sector is forecast to grow 15-fold from $3.1 billion in 2020 to $48.2 billion by 2026 at a 58 percent CAGR. One company in this space, Cityzenith, has already added over 5,000 new investors in the past 18 months, raising $11 million to date to create a more efficient environment for infrastructure through its Digital Twin software platform.
Partly due to the Build Back Better drive announced by President Biden earlier this year, Cityzenith has already seen a 161 percent increase in its share price during 2021. The company is part way through a $15 million Regulation A+ investment raise to scale up its international commercial opportunities.
Cityzenith Founder and CEO Michael Jansen said: "Since the beginning of this year, we have been signing major contracts with the US Government, energy providers, infrastructure and development projects.  Our Digital Twin software platform is helping city planners and building professionals to realize the vast upsides that our AI technology provides.
"We will soon make announcements about the major infrastructure projects we are engaged to support in the coming months. These will be significant ventures in line with this breakthrough infrastructure program."
According to market reports, Nanotechnology and Digital Twins – will experience combined growth of more than 400 percent over the next five years.
Image: Siemens campus in Zug, Switzerland was built using a digital twin