July 19, 2021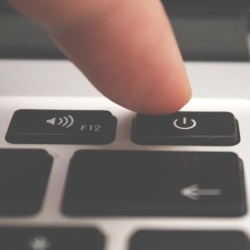 More than two-thirds (68 percent) of employees in the UK have admitted they get so many distractions and message notifications during work that it's affecting their productivity. This is according to new research from Advanced which also claims 22 percent have so many distractions that their working day is never spent fully on actual work.
The 2021 Workforce Trends Survey, which questioned 1,058 employees, suggests that the days of multi-tasking are over – and that employees have now reached technology saturation which is actually reversing people's productivity and slowing them down.
"Spinning multiple plates at once may seem to be a good way to get a lot of things done quickly," says Gordon Wilson, CEO at Advanced. "However, our cognitive ability is in fact impaired as our brains can't handle the constant switching from one focus to the next very well. This consequently causes confusion and affects people's ability to focus. Throw home working into the mix – where there are distractions like answering the door and household chores – and it can become incredibly hard for people to work efficiently during working hours."
Distractions
For 69 percent of employees surveyed in the report, the number of business apps they use at work has increased during Covid-19 – which is perhaps no surprise given the meteoric rise of tools like Zoom, Teams and Slack to facilitate remote working. For some, these have been a lifesaver and helped them to work smarter while, for others, it's been a hindrance – especially those who struggle to work in isolation and have spent their entire career working in close proximity to others. In fact, 17 percent say the uplift in apps is thwarting their productivity.
Email – while necessary for communication and engagement – is another one of the many technological distractions. One in four (26 percent) of employees are turning off their email for one hour every day to focus on urgent work. More than half (54 percent) are also expected to perform urgent tasks outside their working hours, suggesting an erosion of barriers between work and home time, while 38 percent have taken less sick leave, potentially working on when ill.
"People don't work well when they are feeling isolated, overworked and unappreciated"
Gordon continues: "People don't work well when they are feeling isolated, overworked and unappreciated – yet it's clear that some managers aren't doing what's best for their team. It's critical they set boundaries between working and personal hours, ensuring that staff take enough time away from their desks and not emailing teams outside of hours. This is a great time to consider introducing new initiatives, like Friday afternoons off, or even following the footsteps of Bumble which last month said it was giving all of its staff a week off, with full pay and the instruction to fully switch-off, to counter what it described as 'collective burnout'.
"In addition, managers can support employees, even those working at home, by helping them to address potential distractions. It could be that employers help staff to personalise their own workspace or introduce a single sign on system which keeps all of their business apps in one place but without the negatives of multiple pinging, reminders and alarms."
Read the full report here.
Image by Aleksandar Cvetanovi?