February 7, 2019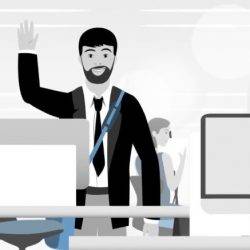 A team from Savills' flexible office platform Workthere has predicted the top five tech trends we're likely to see arriving into offices across the UK in 2019. Supporting the research, Workthere also completed a survey of 2,000 office workers to find out their views on the future of workplace technology as defined by the original study. The poll suggests that employees think that the Internet of Things will have the biggest impact on their day to day working lives followed by voice activated technologies and wireless charging.
Connected technology
The Internet of Things (IoT) is a term widely used when looking at tech innovations, with everyday devices brought to life through technology; allowing people to experience more connected lives.
According to Google Trends, there has been a 300 percent increase in Google searches for IoT over the last five years (worldwide), this technology utilised within an office setting provides businesses with endless opportunities to integrate devices, modernise their ways of working and deliver a more seamless and efficient service to customers.
Workthere's survey results showed that over 45 percent of UK office workers named connected technology as the most useful tech they believe would improve the way they work, making it the most desired office tech by far – with almost double the votes of the second choice, voice activated tech.
From coffee machines, to music and even the ever-controversial office temperature, using IoT within the office offers further opportunities to transform into a 'smarter' workspace, according to the report.
[embedyt] https://www.youtube.com/watch?v=WzGYALVeaCQ[/embedyt]
Voice activated tech
Similarly, the second hotly anticipated office tech trend for 2019 is the increase in voice activated tech devices, such as voice assistants, lighting, screens and security. Google searches for voice assistants have increased by more than 1000 percent in the last five years (worldwide), with 'Alexa' and 'Hey Google' becoming everyday phrases which can be heard in households (and offices) across the world.
The survey results suggest that more than a fifth of UK office workers (22.7 percent) believe that voice activated tech would be most useful to improve their work, and it's thought that introducing these devices into the office could cut down on time spent completing on every-day (but non billable) tasks such printing or even booking a meeting room if you're in a serviced office.
Wireless charging
With more than a fifth of office workers surveyed (21.1 percent) state that wireless charging is the way forward when it comes to office tech, it wouldn't be a surprise to see a surge in the adoption of this technology in offices across the UK in 2019.
No longer will workers have to hunt down the nearest plug socket to power up. With charger pads embedded within desks and meeting spaces, both employees and clients will remain connected with increased flexibility around the office. This could be particularly prevalent in co-working, where hot-desks can provide simple wireless charging units on the desk.
Augmented reality
The integration of augmented reality (AR) into the workplace is considered inevitable, and according to YouGov Profiles, two in five (37 percent) people within the UK think AR is useful due to its real-world applications.
This year, expect to see advanced Hololens AR headsets come into play: a self-contained holographic computer that allows you to view and interact with digital content that it projects onto the world around you. Using special sensors, advanced optics, and a holographic processor; it aims to transform the way we work, play, share and learn, allowing us to experience augmented reality in new and innovative ways in the office. AR is also expected to have a positive impact on training too, providing new ways for trainers to illustrate, demonstrate and explain the course they're running. This will enable workers to complete relevant training courses without having to leave the office, a more effective way of learning to say the least.
AI adoption
According to a YouGov poll, more than half of UK adults agree artificial intelligence is just the next step in evolution, and 67 percent believing AI will help humans with most daily tasks in the future, it is no surprise that a more broad and varied use of this technology is expected in 2019.
AI developments continue to revolutionise the way we live and work, and we expect that offices will incorporate the latest technology innovations, from smart desk booking systems to coffee machines to voice activated printers, to help further improve processes and productivity within businesses.