October 15, 2020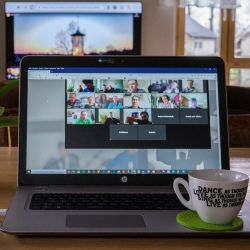 A new global study by Barco ClickShare claims that employees worldwide are desperate to get back to the office and are looking for their employers to invest in a technology-driven hybrid working environment post-COVID-19. The study, which surveyed 1,750 employees around the world through global research panel provider Dynata – claims that only 15 percent of employees want to continue to work from home full-time after COVID-19 restrictions are lifted.
Nearly half of those surveyed said they enjoy working from home less now than they did at the start of the pandemic, citing challenges in collaborating with colleagues, struggling to contribute to meetings and missing the social side of office life as the main reasons for wanting to return to the office.
Instead, employees want a hybrid workplace model, where most of their time is spent in the office but they have the flexibility and freedom to work from home when it works best for them or suits the type of work they need to do. The survey suggests the ideal balance on average globally to be 3 days in the office, with a maximum of 2 days a week working remotely.
There was a significant demand from workers for their employers to invest in better facilities, and particularly technologies, to enable this hybrid working balance. The most desired investment by employees was for better video conferencing technologies, which 1 in 3 of the 1,750 employees globally named as an investment priority. This was perhaps unsurprising, given nearly 8 in 10 employees said they use video conferencing rooms in their office more than once a week, with 1 in 3 using them every day or more.
Working from home has lost its sparkle
The survey results suggest many have suffered as a result of being separated from their colleagues, both emotionally and in their work. 49 percent globally said they have found working from home less fun as time has passed. 37 percent said they miss office social life and found it harder to collaborate when working remotely. 29 percent said they found it difficult to contribute to meetings, while 28 percent said they get easily distracted at home.
Collaboration and socializing were the main reasons people wanted to get back to the office: 45 percent said they found it easier to work with colleagues in the office, and the same percentage said they liked the social aspect of office life. 44 percent also highlighted the importance of those 'water cooler moments' – the informal interactions where colleagues spontaneously share information – in not just improving productivity and collaboration, but also in adding to the social side of working life.
Meeting changes mean the office will need a redesign
The study also suggests that most employees think that we are already returning to something resembling normality after COVID-19, with the number of remote-only meetings expected to drop significantly and hybrid meetings set to become the norm. Huddle spaces might be out, after a huge trend towards these informal meeting areas in previous years. 50 percent of respondents said they prefer formal meeting rooms now, and 75 percent prefer scheduled meetings over impromptu ones.
Employees seemed very starkly opposed to the idea of spending more time in satellite offices or co-working spaces – a trend that many had predicted as a result of the pandemic. Most employees still prefer to spend most of their time at a large corporate headquarters, albeit now with more flexibility to work from home some of the time.
Nearly half of the employees surveyed said that they felt meeting frequency had increased over the past year, but despite many frustrations being voiced around virtual meetings in lockdown, overall, the respondents believed the quality of meetings had improved over the last 12 months. The number of people who believe meetings have improved outstrips those who believe they have got worse by a factor of nearly two to one.
It's clear that there are high expectations for technology-driven improvements.
When you look at what employees want to see from future meetings, it's clear that there are high expectations for technology-driven improvements. The biggest priorities are technologies that improve efficiency and usability, and which streamline workflows. 56 percent said apps for joining a video conference in one click should be available within the next year, if they aren't already. Meanwhile, voice recognition technology, software for remote co-creation and Instagram-style filters for video conferencing are all expected by most people within just two years.
This underlines the need for meeting technologies to facilitate more connectivity between physical and virtual participants in future. Indeed, six in ten people believed that a lack of in-person interaction with colleagues was one of the key reasons for feeling less connected to their colleagues, and 49 percent said that collaborating remotely with colleagues, clients and others does not come naturally.
Image by Armin Schreijäg