October 15, 2020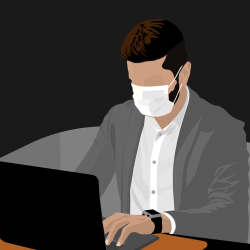 With current government advice encouraging all those who can work from home to do so, it's no surprise that Britain's businesses and employees are navigating a new normal. New research from Owl Labs, sheds light on Britain's attitudes to work during, and after, a Global Pandemic.
It's no surprise that the majority (84 percent) of UK full-time workers are planning on working remotely in some form for the rest of 2020, whilst almost half (41 percent) would be likely to resign if they were forced to return to the office against their will during the pandemic.
Almost half (44 percent) of UK full-time workers plan to work a full five day working-week from home, with 55 percent planning a more hybrid role with one to four days in the office. With working from home likely to become part of the future of working life, 45 percent of office workers are willing to take a pay cut in order to continue working from home in the long-term. 15 percent would be willing to take a pay cut of 5 percent, the equivalent to £1,518 a year when looking at the average full-time UK salary of £30,353.
However, if companies were to enforce pay cuts without offering benefits in kind, such as freedom to work from home, it's a very different story. Office workers would be likely to resign from their current role if their company were to cut their pay as part of cost savings across the business (46 percent), or if their employer cut their pay if they chose to move to a suburban or rural location to work from home permanently (41 percent).
With the change in ways of working, and additional financial pressures brought about by the COVID-19 pandemic and Brexit, many companies may be looking for ways to cut costs and save money. Whilst reducing office space to facilitate increased calls for working from home could be an option, companies should be careful about eyeing up employees wages. If their employer were to make a cost of living adjustment to their salary to take account of savings made through commuting costs when working from home, etc. over half of employees (51 percent) would find it unfair and would start looking for other roles, whilst 8 percent would find it unfair and quit, even if they didn't have another job to go to.
"Maintaining effective communication, regardless of location, is more crucial than ever in today's world. As offices continue to work remotely and the adoption of hybrid working increases, there's a growing demand for products and services that help productivity and allow blended teams to communicate effectively and stay as close-knit as they were before the pandemic,"says Frank Weishaupt, CEO of Owl Labs.
"Companies will need to be agile and open to employee expectations."
Companies will need to be agile and open to employee expectations when navigating this changing working landscape and working life. However, there are opportunities for nimble companies who can move fast to recruit the best talent regardless of location, to cut operational costs with smaller offices, and have a loyal and happy workforce by offering flexible hybrid working to better fit in with employees' work-life demands," continues Weishaupt.
With the shift in working practises, it shouldn't surprise employers that there has also been a shift in employee expectations when it comes to what employers should be providing to their staff, both at home and in-office. Three-quarters of employees (74 percent) believe their company should pay for, or provide, office technology equipment (including laptops, printers, and extra screens) when they work from home, with half (50 percent) believing they should provide office furniture (including desks and ergonomic chairs). Whilst some companies may already be exploring this home hardware support, half of employees believe their companies should contribute to WiFi and phone bills, and 48 percent to electricity bills when working from home, something not regularly supported by companies.
When workers do eventually return to the office, or for those who are currently unable to work from home, 62 percent of workers believe their employers should provide free COVID-19 tests, with 65 percent saying free PPE (such as masks, gloves, and antibacterial gel and wipes) should be provided as standard.
Whilst the shift to increased working from home provides workers with more flexibility and freedom, employers concerned about their workers' productivity should think carefully before introducing remote monitoring technology. When working from home, 61 percent of employees would be concerned if their company bought in remote activity and productivity monitoring, with over a third (36 percent) saying they'd be likely to resign if so. Almost three-quarters (72 percent) were concerned about the use of video tracking, 61 percent with attention tracking apps, 60 percent were concerned about keyboard tracking apps, and over half (52 percent) if their employer were to monitor time spent on certain apps or websites.
Image by Mahmud Shoeb