August 24, 2016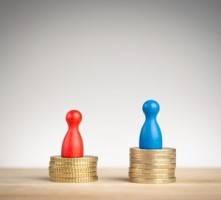 Following the latest report that shows that the gender pay gap is still wide open comes claims that in the UK, the gap will close within the next 30 years. That's the view anyway of futurist, trend forecaster and journalist, James Wallman. While the World Economic Forum believes that the world-wide gender pay gap won't close by 2133, Wallman paints a more positive picture, forecasting the UK pay gap will actually close much sooner — by 2045. His reasoning is that it's far harder to hide wage disparity in an age of data digitisation, meaning companies are compelled to be transparent. There is manifest political will behind pay parity, with new legislation meaning that by 2018 all companies with more than 250 employees will have to publish their gender pay gap data. And he argues there are numerous economic imperatives to get women working; if the same proportion of women worked in Britain as in Sweden, it would add £170bn to the UK economy and boost GDP by 9 percent.
The Future of Gender Equality published by Yell Business is in two parts, one; a retrospective commentary about the progression of gender equality over the past 100 years; the other a future-gazing prediction featuring 10 key likely advancements over the next 100 years, based on past and current trends, and academic research.
Other predictions include the impact of a cultural move away from the binary choices of male and female, and hetero or homosexual. Recent research by New York-based advertising agency J Walter Thompson's Innovation Group found that 74 percent of generation Z (ages 13-20) are more accepting of non-traditional gender identities compared to a year ago – as are more than two-thirds of millennials (people reaching adulthood in the year 2000). In the future, more people will define themselves in nonbinary gender terms. There will be more than two genders.
Wallman also predicts that the rise in AR (augmented reality) and VR (virtual reality) will make it easier to avoid gender bias. In an interview, for instance, you might be a woman in real life but a man in VR, or through an AR lens. As a result, our future workplaces will be far less affected by the inbuilt biases and the people we hire and work with will be more diverse, and the results better.
Also, a new movement will emerge with a controversial concept: masculism. At first, this may sound like a parody, but it's more about a movement that gives men the opportunity to re-define what being a man is. Today men are struggling to be happy as the old certainties of a man's world implode and their place in this new era seems under threat[4]. Young men are also suffering from mental illness and unable to ask for help for fear of looking less macho. So just as there is feminism and a #HeForShe movement, so there will be masculism and a #SheForHe movement and this has to – and will – come from women as much as men.
Nikki Jacobi, Yell HR Director said, "Looking back at the past century and the many advances in technology, our digital landscape and medical treatments – it would be fascinating to be around to see what happens during our next 100 years.
"Our landscape is constantly evolving and changing with current trends marking a clear distinction to more women being involved in business over the next few decades. Gender equality is a key element to business success and something we at Yell fully appreciate and support."
The full report is available to download here.