May 11, 2022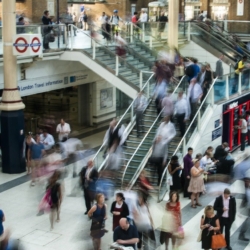 Slack has released the results of a new poll which the firm claims reveals the current state of mental wellbeing among UK workers. Commissioned in partnership with NHS GP and TV Doctor, Dr Sara Kayat, and to mark Mental Health Awareness Week, the survey sets out to examines the impact of the office on wellbeing, the effects of the return to the office after the pandemic and indicates how businesses can build healthier workplaces.
According to the poll of 1,000 UK knowledge workers, around three quarters (73 percent) of employees have experienced burnout in the past year, but only 38 percent feel their workplace values their mental health, and 32 percent are working more hours overtime, there's an urgent need for businesses to shift approach – from offering flexibility to adopting the right technology.
The return to the office is an ongoing concern for workers and employers, with over a third (37 percent) of workers highlighting that going to the office makes them feel stressed, worried or anxious. For half (49 percent), this is due to apprehension about harming their work-life balance. The same number (49 percent) highlight associated costs, such as travel and food as a stressor—at a time when almost 9 in 10 British adults are reporting a rise in their cost of living (ONS).
The study found the majority (70 percent) of UK workers believe implementing a four-day working week would improve their health and wellbeing at work. The findings for hybrid working are similar, with a large proportion of UK workers (44 percent) believing this flexible remote-office model of working is best for their mental health and wellbeing. Despite this, only a small number of employees (28 percent) have a free choice over if and when they work in the office.
Dr Sara Kayat commented: "Businesses must take action to avoid a wellbeing crisis as workers return to offices. Transparent communication and responding to feedback from their workers is key. Hybrid working, facilitated by technology, can also help employees and businesses build healthier workplaces, empowering teams to work flexibly while still maintaining the human connections we all need to flourish."
To create a strong hybrid working environment and nurture mental wellbeing, the study revealed technology plays a major role. Over two thirds (69 percent) of workers agree technology is a help at work, not a hindrance, and 62 percent say they are able to work more flexibly thanks to technology. Specifically, 55 percent  claim  that hybrid work would not be productive or efficient without using a business messaging app. This is in part thanks to the features offered by this technology with over 3 in 5 (64 percent) workers claiming tools to 'snooze' or turn on 'do not disturb mode', which reduce messaging/notifications, will improve mental health and wellbeing at work.