August 4, 2016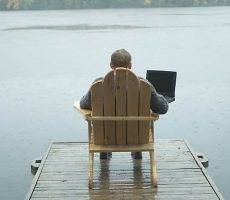 New research suggests that UK workers are overwhelmingly turning their back on the standard 9-5 office life with 72 percent agreeing that it's not relevant for the 21st century. Working remotely and flexibly makes them more effective in their job said 82 percent of respondents to the TeamViewer report 'The End of Nine-to-Five' with 73 percent agreeing that having the ability to work flexibly makes them feel more valued and 82 percent that all employees should be offered flexible working hours without it affecting their career. With 79 percent of people rating work-life balance as more important than salary, the report suggests it is critical for businesses to ensure they are offering more than just monetary incentives, as almost half (49 percent) say that flexible working hours would be the most important factor to them when looking for a new job. According to the survey, UK office workers are already spending on average 2.5 days, half of their week, working remotely.
In the poll of 1,000 UK office workers 62 percent of people work remotely at least one day per week, 33 percent of people work remotely between fve and seven days per week and 42 percent of people work remotely for three or more days per week. 84 percent of the respondents agree that you don't need to go to the office every day to be productive.
"For the first time workers are demanding how, where and when they want to work and interest in a six-hour working day is just another example of this. Employees now have the technology to work flexibly but many businesses are still falling behind when it comes to meeting the needs of the modern workforce," commented Andreas Koenig, CEO of TeamViewer.
"If companies want to continue to motivate their teams and attract the top talent and fully support today's workforce, organisations need to realise that they can no longer enforce policies that restrict remote and flexible working. Instead they need to provide technologies and an environment which is beneficial for the employees and the company."