June 6, 2016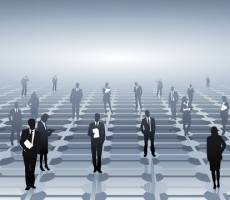 The rise of data based applications has brought about a new era for the HR department. Processes developed in the 70s are now going through a transformation, with tools for gathering more accurate reports based on people analytics. But what exactly can you do with this information? The main objectives of every organisation, is to boost engagement, lower turnover, provide effective training & development and attract great talent. Aside from turnover, these objectives are difficult to measure. How do you measure engagement or the effect of a training programme? This is especially difficult when your company only tracks performance annually. Data based on continuous feedback is providing new answers. There are four ways it can help: by measuring and tracking engagement; give you better insights into the causes of turnover; helping you develop a feedback culture and enabling your organisation to create better hiring and recruitment strategies. We take a closer look at these below.
Measure and track engagement
One way to gather data from your people is by sending out regular pulse surveys. The results allow you to instantly gauge the general feeling in the office or towards new processes and changes to the work environment. A revealing Gallup study reported that companies that score in the top half of employee engagement have double the odds of success of those in the bottom half. In fact, those in the 99th percentile of engagement have four times the success rate. The more your organisation stays on top of these figures the better you can address low engagement with new initiatives.
The ability to aggregate the data collected from surveys allows you to see change over time. Being able to report employee engagement rates based on real employee feedback makes it a more tangible metric for HR to track and report to other departments.
Get better insights into causes of turnover
Better data can help you spot potential issues before they result in turnover. Aside from higher pay, the most commonly cited reasons for employee turnover are not feeling valued (65 percent) and having few opportunities for advancement (45 percent). Ultimately this all comes back to how effective your leaders are at keeping their employees engaged.
Simply reporting low engagement levels to managers is not enough. By analyzing upward feedback, you can identify top performing leaders and their best practices. This information can then be used to devise training programs around the leadership skills that have proven to be most effective and match lower performing managers with peer coaches.
It can also be useful for identifying the next generation of managers. A common mistake many companies make is promoting people with the best technical skills to management positions. Not everyone is cut out to be a manager. In fact alarmingly, Gallup found that companies choose the wrong person for the job 82 percent of the time. What's more, Deloitte reported that 71 percent of employees who were likely to leave their jobs in the next two years were unsatisfied with how their leadership skills were being developed. Keeping track of employees who demonstrate great leadership skills will help fill this gap.
Develop a feedback culture
Giving more feedback has proven to increase employee engagement, lower turnover, improve communication and help employees grow. However, only 65 percent of employees said they still want more feedback.
The key to helping your company develop a feedback culture is analyzing the amount and quality of feedback given per department and per team. Which departments are asking for feedback more often? Which are lagging behind? By providing feedback behaviour reports that identify potential gaps and needs, with this information HR can then provide targeted training to teams that are struggling.
Attracting great talent
People analytics can also help you create better hiring and recruitment strategies. For example, having more accurate knowledge of the skill gaps within your organization allows you to create more targeted job ads by listing the exact skills your company needs, rather than hiring based on outdated job descriptions. For example, if you've identified a disconnect between the development team and other departments, you may be looking for employees who are skilled at being able to clearly communicate technical issues to non-technical teams. At the same time internal mobility is also made easier by having better knowledge of who is strongest in the relevant skill/position you're hiring for.
Finally, having high engagement levels among your existing workforce greatly contributes to employer branding. Many job seekers are now relying on websites like Glassdoor and Indeed which provide a window into the development opportunities, benefits and the overall attitude of current employees to the company. To read more about how you can create a great employer brand read further here.
____________________________________
Andrea Hak works as a content writer at Impraise, a web based and mobile solution for actionable, real-time feedback at work.