July 21, 2016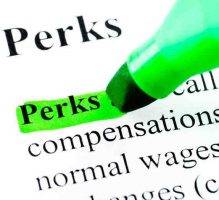 A quarter (25 percent) of British workers would be willing to accept a lower salary in return for better 'work perks' a new survey claims. Employment bonuses, such as flexible working, a company car or free food have become increasingly popular over the last few years, which explains why 55 percent of UK workplaces already offer work perks, the survey suggests. Workers in Wales are most likely to accept a lower salary with almost a third saying they would accept a position for less money if it had better perks. The survey was commissioned by Printerland.co.uk to explore attitude towards benefits, asking 2,000 workers about the kind of perks they already receive and which bonuses they wish they had. The research claims that the most common perks offered are flexible working (51 percent), financial bonuses (50 percent), free food (32 percent), company phones and tablets (21 percent) and company cars (11 percent).
Some companies across the country offer more unique benefits to their staff. Respondents claimed that their company offer perks such as duvet days and counselling, while others receive massages and holidays to the cost of £450 each year.
When asked what perks employees would like, freebies such as Netflix subscriptions and event tickets came out top (42 percent), followed by free trips (37 percent), shopping discounts (35 percent), gym memberships (28 percent) and on-site facilities such as a gym or a crèche (25 percent).
Despite the popularity of work perks, 16 percent of those surveyed said that they didn't want any additional employment benefits, with one respondent stating that they felt the cost of additional benefits would catch up with them in other areas.
In terms of geography, the survey revealed that London businesses offer their staff the most perks, with 60.55 percent of those employed in the capital receiving benefits. The East Midlands was revealed as the region offering its employees the least work perks.
Despite this, the data shows that those working in the East Midlands have the highest level of job satisfaction, with almost half of respondents citing a job fulfilment of 80 percent, compared to a national average of 65 percent.
Chris Ralph, Marketing Manager at Printerland.co.uk, commented: "There has been a culture shift in UK businesses over the last few years as companies shift their focus from attracting new talent, to retaining current staff. In fact, a survey by Recruitment and Employment Confederation (REC) shows that 47 percent of businesses operating in the UK have awarded pay rises over the last 12 months to encourage their employees to stay. However, the data from our latest survey has shown that a quarter of employed Brits would rather take a pay cut and receive work perks, which shows how important increasing staff morale can be to a business."