December 15, 2020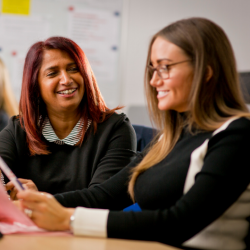 Research published by VINCI Facilities claims that there is a lack of long-term strategic thinking amongst FM service providers and their customers that is limiting an opportunity to yield substantial business and social benefits.
A survey of over 200 respondents, drawn from leaders within the FM and built environment sectors, focussing on four key issues: wellbeing, climate change, collaboration and asset management suggests that whilst there are incredibly positive ambitions to achieve improvements in all areas, these goals are hampered by not enough clear-cut strategic action.
All four areas are defined as particularly important but lose sight of the main objective due to a focus on short term goals or confusion about priorities and definitions. For example, referring to climate change – widely regarded as a critical theme – most FM organisations have some form of environmental strategy in place, but 'quick wins' tend to be favoured over more challenging longer-term action. Crucially, the short-term focus often prevents organisations seeing the link between any, or all, of the four areas covered by the survey.
"Few organisations have comprehensive strategies for collaborative working."
"This short-term approach is a common theme in our research," said, Phil Russell, sales and marketing director, VINCI Facilities. "For example, the concept of collaboration is widely recognised across facilities management, but few organisations have comprehensive strategies for collaborative working. The frustrating thing is that everyone recognises the value of it and the survey showed that collaborative working improves morale, efficiency and customer satisfaction. There just isn't a well thought through combination of people, process and technology to deliver impact."
Collaboration – which is the first white paper to be published by VINCI Facilities – is highlighted as one of the critical elements in delivering effective FM and particularly actions around climate change, asset management and wellbeing. The survey indicates FM organisations are at risk of missing out on the benefits of collaborative working.
"If we combine that with the short-term focus on climate change as well as asset management and some elements of wellbeing then as a sector we are in danger of not delivering on our responsibilities to the built environment," said Phil Russell.
The survey indicates that the real and effective change required to achieve the objectives the industry and built environment has specified needs to start at the very top of the business. It has to begin with clear vision and targets, and then include extensive listening, communication and inclusion down to grass roots support to ensure lasting change in deeply entrenched behaviours and assumptions across the entire organisation. If senior management understand the importance of the ambition and the benefits, then effective change – via collaborative working – can be delivered and targets achieved in terms of wellbeing, environment and efficiency generally. The lack of strategic thinking is linked to a lack of senior management engagement.
Phil Russell continues, "We want to change this mind set. We believe the industry can make a difference and make dramatic improvements in terms of wellbeing, sustainability and efficiency by taking a more strategic approach. Our goal is to drive that change by working with our stakeholders – up and down the supply chain – and work more closely together from the top, in terms of vision, to day-to-day communication and data sharing. In parallel to that we will be advocating a change of thinking across the sector and profession."
Key findings
Collaborative working improves morale, efficiency, and customer satisfaction
FM organisations recognise value of collaboration but are slow to put effective strategies into place
FM organisations at risk of missing out on benefits of collaborative working
FM organisations failing to capitalise on smart asset management
FM organisations recognise the value of good asset management, but too many organisations restrict themselves to simple repair logs and inventories and lack a comprehensive asset management strategy
Less than three-quarters of organisations bother to maintain a list of all their asset locations, and only 65 percent keep an inventory of individual assets. Shouldn't modern FM businesses be keeping track of all their assets?
Few organisations have implemented advanced approaches like predictive analytics, sensor/machine learning technology and reliability-centred maintenance. Why is this? What are the barriers?
Many organisations have the seeds of a robust AM strategy, such as a computerised asset-based maintenance management system or a digital record of the condition of all assets. How can this be transformed into a just in time system?
FM organisations need a longer-term approach to environmental and sustainability action
'Quick fix' measures inadequate to meet FM industry commitment to environmental reform
Over 70 percent of respondents told us that their business has some form of formal sustainability/ environmental strategy in place, with 56 percent indicating that their strategy specifically focuses on carbon reduction
Only 32 percent of organisations surveyed were carrying out whole-life assessment of their assets, yet the potential to reduce waste and carbon emissions through a greater understanding of assets is huge.
FM industry needs to work together to develop an effective response to environmental crisis
Buy-in from the top is essential to an effective collaboration, efficient asset management and successful environmental and decarbonisation strategy