November 3, 2021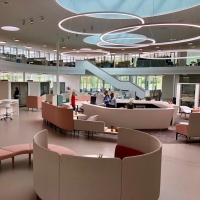 There's no one-size-fits-all approach to work. Every business will need to test, iterate, and refine approaches depending on their team's needs. However, after the once in a generation changes in the last year, and all of the talk about the office of the future, setting a digital-first baseline is a key first step. This means embracing a mindset shift to thinking of the physical office not as the HQ, but as just one tool at your organisation's disposal. The HQ, meanwhile, becomes digital.
A digital-first approach only works if leaders set an example. Offering flexibility on paper is instantly undermined if the executive team is in the office five days a week. It creates a two-tier system. Those who need (or simply want) to be at home, with obligations over children or parents, friends or hobbies, or are located far from the office are put under pressure. If the leadership is tied to the office, the implicit message to workers is they should be too.
For meetings, if one-dials-in, all-dial-in. Everything that needs to be said, must be said on the call. For the initial period of office reopenings at least, leaders should lead by example – by staying at home.
This isn't about cutting all in-person interactions. Go for that coffee catch up in the office, but offer digital equivalents, too. Equal, transparent  access to information, and ensuring communications add the same value for everyone is crucial to stop biases forming.
And, this approach to communication and collaboration requires the right toolset. The apps your business uses are the building blocks of the digital headquarters. Keeping communication in transparent channels, for example, drives alignment and equal access to information.
Getting the digital headquarters right is crucial. Yet we also need a new approach to the physical office. And again, those changes need to start at the top.
All about people
The physical office won't disappear. Many will need space or tools they simply don't have access to remotely.
Creating dedicated spaces for those who need it means democratising the office of the future. That's why it's time to do away with dedicated exec-floors and to instead let employees govern the office.
The office space should be a social, activity-based hub with real in-person purpose—including extra-curricular hang outs and a place to grab a coffee—not a bank of monitors. "Office-work" will no longer be synonymous with hundreds of people staring at their laptops in rows, but with creative, dynamic, collaborative sessions. It will be a place where all-hands meetings are held, and a place for in-person collaboration on certain projects. While there will always be a key decision-maker in a business, the decisions over which of those sessions take place in-office should be decided as democratically as possible, with plenty of flex offered for those who work remotely.
Some interactions will always be better in-person. But the majority of the work most of us do doesn't require physical presence, and employees should be empowered to work in ways that recognise that.
Let's build a truly connected, equal, and transparent digital HQ alongside physical spaces that nurture vital social moments. The worst of both worlds approach, the old mass shrines to screens, keyboards, and computers, can be relegated to the past.
For leaders, the first steps are as simple as giving up the exec-suite, democratising decision making, and knowing when to dial-in. By doing so, they can help create a future of work that's more productive, simpler, and even more joyful for us all.
Image: Sedus