March 26, 2014
The latest survey highlighting how disconnected the world's workers feel from what they do comes courtesy of researchers ORC International. In its Global perspectives survey of over 7,000 employees in 20 countries, the researchers found that UK employees are amongst the most disengaged in the world. Engagement has declined sharply over the last year for UK based workers with under half (48 percent) claiming to be engaged with their jobs, down from 56 percent last year. This puts the country in 18th position, with only Japan and Hong Kong coming out worse. Only 40 percent think their managers motivate and inspire them and only 37 percent feel encouraged by their employers to innovate. In fact the UK's score fell according to every measure used in the report including the wellbeing index with a rating of 57 percent, down from 61 percent last year.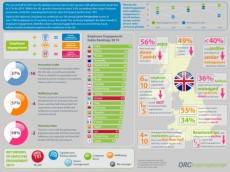 Kate Pritchard, head of employee research at ORC International, said: "UK companies need to take a hard look at the impact low engagement scores have on their business performance. Encouraging innovative ideas, creative thinking and providing an environment where employees feel that managers act in their best interest are just some aspects to improving engagement which ultimately have a positive effect on overall business outcomes and client satisfaction."
The report comes in the wake of reports from Deloitte and Gallup which broadly make the same point about the levels of engagement of the world's employees.