June 17, 2021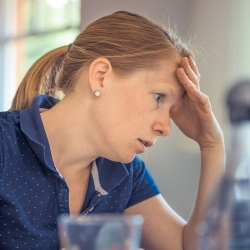 As COVID-19 continues to limit our daily lives, forcing the Government to extend social restrictions into July, restrictions of a different kind are taking their toll on working women, and may be even longer-lasting, according to research from 87 percent.
A new survey of over 5,000 UK workers has highlighted the impact of the pandemic on the female workforce. the data suggests that the mental health of women is more likely to be affected than their male counterparts and this is having serious repercussions in their careers.
Key findings
87 percent's findings claim that the work-life balance of female workers has been badly affected. Many have felt the impact of having to juggle caregiving responsibilities but this is not the sole reason for a spike in issues. Half of women do not have such responsibilities and for many changes in commuting habits have allowed for more free time, yet the data still suggests a considerable leaning towards the issues faced by women. With less time to prioritise their health and wellbeing, women are 23 percent more likely than men to struggle with poor work-life balance and 45 percent more likely to suffer from work stress.
Physical and mental issues are increasingly manifesting themselves as women experience a range of symptoms related to this greater toll on their wellbeing. Fatigue and anxiety are at an all-time high, with women struggling almost twice as much in these areas on a regular basis compared to men. Wellbeing scores from 87 percent indicated that women are 81 percent more likely to be struggling with fatigue and 89 percent more likely to regularly feel anxious. This, as well as gender differences on poor sleep, indicate greater vulnerability to burnout for the female workforce.
According to the research, women are 48 percent more likely to be struggling with self-confidence in light of the events of the last 18 months, holding them back from sharing ideas and thriving in their workplace and career development. They are also less likely to feel they have a say at work, reporting 55 percent poorer work autonomy.
"When it comes to mental health, there is there is no one-size-fits-all approach"
This all serves to negate progress made towards achieving gender equality in the workplace in recent years and much must change to avert the impact of the pandemic on the careers of women. A recent study by Deloitte claims that mental health resources are one of the most sought-after forms of support, chosen by 45 percent of women as the most beneficial action that their organisation could take help them succeed in their careers in light of COVID-19. Just behind this, 44 percent asked for regular check-ins to ask, 'Are you OK?'
But Dr Jazz Croft, Applied Behavioural Scientist at 87 percent, believes that it's not enough to simply ask the question, rather a more tangible and prescriptive means of measuring mental health is urgently required to help organisations direct resources effectively.
Dr Croft says, "Inequality in the workplace is a key driver for poorer health and wellbeing for women and something that we have seen worsen over the course of the pandemic. Unfortunately, when it comes to mental health, there is there is no one-size-fits-all approach but employers can close the gender wellbeing gap by having proactive policies that support women, including flexible working policies, access to wellbeing support and the promotion of inclusive work cultures. Crucially, technology can play a part in accurately measuring the wellbeing of workers and driving insights on the most effective wellbeing strategies for businesses, tailored to their employees' needs."
Image by Pexels