October 27, 2020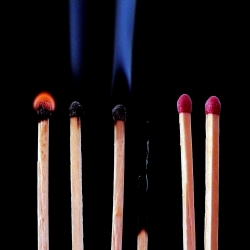 According to new data from people success platform Glint, employee burnout is reaching new highs — with no signs of abating. People worldwide have been coping with a range of hardships this year, including a pandemic, social isolation, enforced working from home, school disruptions and major layoffs.
Looking at aggregated data from 1.75 million employee-engagement surveys carried out this year, Glint's latest August analysis claims 5.41 percent of employees provided free-text comments that spoke to fatigue, being overwhelmed and other potential signals of burnout. By contrast, January's reading was just 4.08 percent. The past two years have averaged 4.12 percent — a 33 percent rate rise.
According to the data, this is in uncharted employee-burnout territory. The 33 percent jump in a measure of burnout risk that has never exceeded 5 percent in the last two years (as far back as can be measured). And because free-text comments capture only part of the burnout experience at work, the full number of people feeling exhausted, ineffective, and disconnected from work may be considerably higher.
"Many employees are emotionally exhausted — and they'll be finishing this year with little left to give."
Additional Glint data suggests employees' sense of connection at work has declined significantly in recent months. Some 37 percent of employees now feel less connected to their colleagues, and 31 percent feel less connected to their leaders. Companies with the least erosion in this sense of 'connectedness' show markedly lower rates of burnout signals than those where feelings of isolation are more intense. Employees who say their employer is helping them feel connected are four times more likely to report feeling well supported.
The data also claims that in July, nearly 3 out of 4 employees between the ages of 24 and 38 expressed high interest in more employer-sponsored mental-health and well-being support. Approximately 3 out of 4 employees expressed a strong desire for more support for work-life balance.
Steven Buck, head of People Science, EMEA, Glint, said: "Globally, many employees are emotionally exhausted — and they'll be finishing this year with little left to give. If you're a people leader feeling overwhelmed by your employees' needs right now, our recommendation is to start with one of the most straightforward habits to help your employees rebuild connections and best direct their energy: conversations.
"Consistent, thoughtful conversations between manager and employee will help your organisation support each employee as they work through their individual circumstances. Employees who have regular conversations with their managers say they're better able to do their work and take care of themselves. Even better is to recognise and embrace the fact that these conversations have taken on a more personal tone this year, addressing the needs of the whole person rather than focusing solely on work priorities."
Image by moritz320