June 28, 2016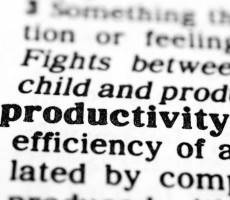 There's been a lot of debate surrounding the productivity gap over the past few years, but there's still much confusion on how best to measure it. Now a new study claims that around half of UK office workers don't fully understand what 'productivity' actually means. The survey, by PageGroup highlights a clear disconnect between employers' continued push for increased productivity and employees' understanding of what this really entails. Only 55 per cent of the 1,000 office workers surveyed completely understand what productivity means. For instance, the most popular definitions chosen by respondents were finishing all tasks within their deadlines (37 percent), and getting all their work done within working hours (26 percent). With the vast majority (86 percent) saying that they work out of contracted hours – and around four in ten (39 percent) doing so often or always – it is clear why they might think that they are falling down in that second regard.
The research, which was conducted by Vanson Bourne, also revealed the strain being placed on office workers by the need to be more productive. Only a third (35 percent) of those asked were confident that their working day is always productive; 78 percent admitted to wanting to be more productive than they are – over one in four (27 per cent) wanted to be significantly so; and almost seven in ten (69 percent) said they felt pressure from their bosses to be more productive.
The research also found that:
Only 35 percent of workers were confident that their working day is always productive;
78 percent of workers admitted they wanted to be more productive than they are;
Seven in ten (69 percent) workers feel pressure from their bosses to be more productive;
Two in five (39 percent) workers often or always work out of their contracted hours (i.e. evenings/weekends);
A quarter of those surveyed (26 percent) believe they are most productive before 9am.
Oliver Watson, Executive Board Director for UK & North America, PageGroup, commented: "The results highlight the need for businesses to provide a clearer definition of productivity in order to help employees achieve it. The majority of respondents cited unsubstantial or no training at all. As businesses, we constantly drive our employees to be more productive, but many are not currently demonstrating how to get there or what the final destination looks like. The result is potentially endless cycles of unproductivity with no clear goals or objectives."
When asked for a breakdown of their typical working day, respondents said that they spend a third (34 per cent) of their time on email or work phone calls, and almost the same amount (29 per cent) on meeting deadlines and attending meetings. By contrast, only 10 per cent of the day is dedicated to learning new things or brainstorming new ideas.
Watson continued: "While a focus on productivity is understandable, employers should consider how much they prioritise productivity over other areas, like innovation. The majority (65 percent) of office workers feel that innovation falls lower on a business's agenda than productivity, which should be of particular concern for businesses whose success depends on innovation and forward thinking."
To see how productive your working day is in comparison to the average British office worker click here.