August 26, 2021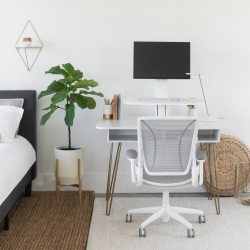 Older workers might choose to delay their retirement if offered the option of continuing to do their jobs working from home after the pandemic, according to new research from the UK's Office for National Statistics. The ONS study found those in their 50s and 60s who worked from home during the coronavirus crisis said they were planning to retire later than those who were still travelling to their workplace.
The report claims that this could have a positive knock-on effect for those who are able to work remotely and grow the economy. The age at which a person retires has implications for their financial security, the ONS said. It added that more than 5 percent could be added to UK gross domestic product (GDP) if those aged 50 to 64 were employed at the same level as 35 to 49-year-olds.
However, not everyone is able to work from home, and the circumstances of those unable to do their jobs remotely during the pandemic make them more likely to stop working early. They are more likely to live in deprived areas, be in poor health, have lower or no qualifications, and experience lower wellbeing. If home-workers are able to stay in the labour market longer, it could entrench these inequalities, the ONS said.
The news coincides with the publication of a new report which suggests UK workers now have the highest expected retirement age in Europe.
According to the study, across all ages, those who mainly or recently worked from home had a lower sickness absence rate than those who reported never or occasionally working from home. This could be because those working from home have less exposure to illnesses. Also, when unwell, those working from home may be more likely to feel able to work that those who travel to a workplace.
Sickness absence rates are higher among older workers aged 50 years and over than younger workers, an increase in working from home among older workers may help lower these rates, says the report. In terms of long-term sickness absence, pre-pandemic in 2019, those older workers with a limiting long-term illness who were working from home were less likely to have been on long-term sickness absence in the last 12 months than those not working from home (8.0 percent compared with 14.4 percent).
Louise Ansari, at the Centre for Ageing Better, said: "It's vital that the move towards more flexible working for some doesn't entrench inequalities. These figures highlight the importance of Government bringing forward measures in the Employment Bill to give all workers the right to flexible working so no-one is forced out of work early due to health conditions or caring responsibilities."