February 3, 2022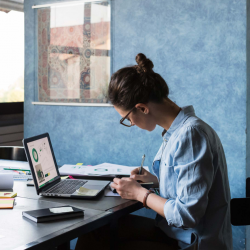 Considerable job insecurity and uncertainty has pushed companies to rethink their workplace culture to meet employees' new needs, priorities, and expectations, according to the annual Fjord Trends report from Accenture. According to the report, nearly two years of social, economic and employment disruption has resulted in a collective shift in people's relationships with work and employees are re-assessing what they want and expect from a company culture and employee value proposition. This means enhancing workplace flexibility, benefits packages, and greater employee care and compassion will continue to be notable trends in 2022, creating both challenges and opportunities for businesses looking to retain and recruit talent.
Abbie Walsh, chief design officer, Accenture Interactive, says of the new workplace culture: "The pandemic has resulted in lasting changes to the way we live. We have seen the effects of 'The Great Resignation,' with employees leaving jobs and even careers in droves. We now have a job seekers' market and organisations need to work harder than ever to attract and obtain great talent. Staff now see through gimmicky benefits and expect more from their employer for a better lifestyle overall. Our latest Fjord Trends report, shows that people have started questioning who they are and what matters to them and want real initiatives that support a better home life, such as flexible hours or childcare assistance. This will be a challenge for businesses and our trends show it is one that is set to continue. This challenge brings great opportunities for businesses to create positive relationships which will develop a way of working which is better for people, society and the planet."
The Fjord Trends 2022 report discusses employee behaviours and trends bound to affect businesses in the coming year:
Post-Pandemic Priorities: The growing sense of agency that people have over their lives two years into the pandemic is affecting the way they work. The Great Resignation saw people quitting their jobs in line with new priorities that came into focus during the pandemic, with many questioning their identity and what matters to them. The rising individualism underlined by a "me over we" mentality has profound implications for organisations in how they lead their employees, their workplace culture, how they shape a new employee value proposition, and how they nurture their relationships with colleagues.
The Humanisation of Workforces: Professional and private lives are blending more, leading to the rising importance of self-care and care for others in the past year. Indeed, compassion and grace in the face of a colleague's personal struggles—such as mental health issues, grief or a sudden disruption through illness—have become normalised, as well as employees taking on more responsibilities to look after their loved ones. With care set to be a sustained priority for employees and businesses alike, designing KPIs that measure the benefit/risk to people and their relationships will likely be a differentiator in the year ahead.
The Push for Flexibility: Having already adjusted perks for the digital world, employers will continue to assess their suitability for a flexible and remote workforce. With hybrid and fully remote working models already a norm across many industries, providing flexible working has shifted to become a priority, and sometimes a non-negotiable, for many prospective employees. This also opens doors from a recruitment perspective, with the possibility of distributed workforces relying on strong internet connections, virtual tools, and video conferencing, rather than needing to be situated within proximity to a physical office.
Employee Experience 2.0: Designing internal processes and rules to reduce employees' mental load is a subtle, yet important, way to show care. The aim should be to deliberately design and build care into systems.?In all aspects of work, employers can declutter the organisation of the things that most frustrate employees, and make cumbersome experiences invisible and easy, giving people space to do the work they're meant to do. Caring businesses will look for ways to minimise the noise, (such as communications, internal processes, external products/services), to give people more time and space for the things that matter. It's also important to provide a differentiated experience for employees. Amidst the widespread shift to remote working, and the rise in tech tools, work has often become more transactional. Companies must adjust the balance of the employee experience to be about more than just task productivity.