June 29, 2021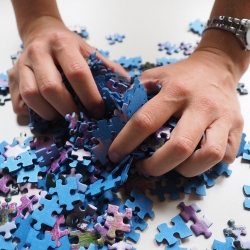 Having an insecure financial situation, being bored in both work and free time, and worsening physical health were the biggest factors affecting employee's wellbeing, during the first covid-19 lockdown, according to new research from emlyon business school.
These research findings come from a study by emlyon business school's Lifestyle Research Center, who extensively studied employee's workload, job security, lifestyle and circumstances during the first covid-19 lockdown period, to the impact of these on their wellbeing.
The data comes from a survey of over 1000 respondents, split evenly across France and the UK, gathered near the end of the lockdown period in May 2020. The respondents worked in a number of different roles, including managers and highly skilled professionals, clerks and administrative assistants, skilled manual workers, teachers, nurses and service workers amongst others.
The study covered a number of relevant areas of everyday working life that were likely to be affected by the lockdown, in order to understand which were having the biggest impact on employee's wellbeing.
The researchers claim it was the precarity of their work and financial situation, the boredom both in their work role and free time, and the levels of physical health, that had the biggest impact on wellbeing.
Professor Joonas Rokka, Director of the Lifestyle Research Center at emlyon, says, "France and the UK have been among the European countries most hurt by the Covid-19 virus. The COVID-19 pandemic has dramatically effected UK and French citizens working lives, whether it be an enforced work from home, increased job insecurity, a larger workload, the stress of juggling family and work or even a dangerous work environment, all of these have hugely impacted employee's wellbeing."
"There were, of course, many employees who were thriving during the first covid-19 lockdown."
The researchers suggest that socioeconomic status, or a person's specific job, had no correlation to their wellbeing. Whilst the researchers also suggest a reason behind those who had job insecurity and boredom in their role also experiencing worsening physical health, may be due to the loss and gain spirals theory, wherein loss of valuable resources (e.g., money, security) leads to further loss (e.g., exercise) resulting in deteriorating well-being.
However, the researchers say it is also important to state that not all employees suffered with wellbeing issues, and many did actually have a positive wellbeing during the lockdown both from a work and personal perspective. Many employees experienced a positive boost in their wellbeing during the covid-19 lockdown likely due to increased finances and a busy, but interesting workload.
Lotta Harju, Professor of Organizational Behavior at emlyon business school says, "There were, of course, many employees who were thriving during the first covid-19 lockdown. This may be due to a shift for working from home, removing long commutes, allowing more family time. These respondents also reported a slight decrease in their workloads, relative financial stability, and stable physical health."
The findings of the study, and the impact of a lockdown on people's physical and mental wellbeing, showcase that there are a huge number of factors that can affect employee's wellbeing during turbulent events such as the covid-19 lockdown. They also showcase the impact a precarious and unhealthy work life can impact on worker's personal lives too, like their physical health.
This research was published in Frontiers of Psychology.
Image by Hans Braxmeier