January 7, 2022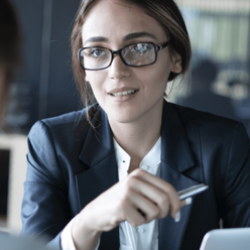 LumApps is releasing new workplace data claiming how employees and employers are dealing with the fallout of the Great Resignation. The survey was conducted in collaboration with CMSWire during the Fall of 2021.
Data was collected from 1,800 employers and employees across mid-sized and large organisations in the U.S., UK, and France, to analyse both retention and recruitment trends. The survey suggests that employees are reflecting on what they want out of their careers in what's been dubbed "The Great Reflection" and that employers need to be doing more in order to retain top talent.
The data was compiled into two new reports: Employee Retention Strategies for the Digital Workplace and The New Era of Employee Recruiting, which each paint a picture of the current workplace landscape. The pandemic has upended the way people work, and employees have become empowered to take their careers into their own hands and re-evaluate what's important to them. At the same time, employers are struggling to retain employees long-term and transform their workplace culture to meet today's needs.
"Employees are the heart of every successful organisation"
"Employees are the heart of every successful organisation, so the Great Resignation put many employers in a life-threatening position," said Chris McLaughlin, Chief Marketing Officer at LumApps. "Remote and hybrid work have afforded employees new freedoms and flexibility, and businesses must adapt their cultures to attract and retain top talent. The insights gleaned from these reports will better inform HR teams to prioritise and enhance the employee journey."
The Great Reflection
Findings from the reports emphasize how the next phase of The Great Resignation is a period called The Great Reflection, where employees are newly empowered to demand a more inclusive and flexible work culture that prioritises employee needs.
71 percent of U.S. participants say the pandemic made them rethink what they want out of their career. 63 percent of U.S. employees and 70 percent of UK employees have at least considered a new career in the past year. Despite the trend of employees leaving, 59 percent of U.S. employees would prefer to stay at their current employer under the right conditions and 73 percent said they like their current role. 49 percent of employees saying they are happy with their current team and 36 percent are happy with their current supervisor.
Work flexibility
The study also claims that employees are split on their preferences when it comes to remote work but are overall seeking flexible working options from their employers.
48 percent of all employees disagree that remote work affected company work culture, while 56 percent say remote work positively impacted their productivity.
44 percent of employees would consider staying at their current job if more flexible working arrangements are given. Nearly a third cite the desire for more work flexibility in their new positions.
The employee journey
With more than a third of UK employees and more than a quarter of US employees not believing they have ample opportunities to learn and grow in their current role and workplace, there is the potential for businesses to retain top talent by filling in this learning gap and investing in employee journeys. Data also suggests that while compensation is important, engagement, as well as company values and culture are just as important.
Salary and benefits (93 percent) are cited as the top factor that employees consider when evaluating a new employer, with employee experience, engagement, and empowerment a close second at 88 percent.
76 percent are looking for corporate social responsibility and 73 percent want to choose employers with a reputation for supporting diversity, equity, and inclusion.
Image:LumApps