February 12, 2018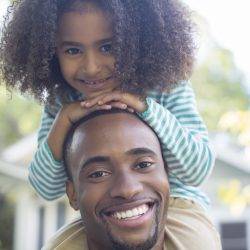 A new government campaigned launched today encourages more parents to take up the offer of Shared Parental Leave in their child's first year. The workplace right for eligible parents allows them to share up to 50 weeks of leave and 37 weeks of pay after having a baby. They can take time off separately or they can be at home together for up to 6 months. Around 285,000 couples every year are eligible but take up could be as low as 2 percent, according to the Department for Business, Energy & Industrial Strategy and around half of the general public are unaware that the option exists for parents.
The campaign encourages parents to 'Share the joy' and will aim to reach them through digital website advertising, social media, adverts in train stations and on commuter routes. A new website will provide detailed information and guidance.
It launches shortly after the government set out its Good Work Plan to deliver the pledge to not just protect but build on workers' rights. This is a vital part of the government's Industrial Strategy – a long-term plan to build a Britain fit for the future by helping businesses create better, higher-paying jobs in every part of the UK.
Sarah Jackson, Chief Executive of Working Families, said: "When we asked fathers last year, the majority told us they would use Shared Parental Leave – but a quarter of fathers didn't know about it. So, the Government's drive to raise awareness amongst parents about the scheme is a step in the right direction. Many fathers are excluded from the scheme because they haven't been in their job for long enough. The Government should make SPL a day one right for fathers in the same way that maternity leave is for mothers and extend the scheme to self-employed parents. Of those fathers who said they wouldn't use the scheme, more than a third said this was because they couldn't afford to. Those employers that can afford to should go beyond the minimum pay for SPL. But if the Government is serious about equality at work and tackling the gender pay gap, it should consider also introducing a properly paid, standalone period of extended paternity leave for fathers."
Key facts
the government is spending £1.5 million on a campaign to make sure parents know they can take leave to share the special moments with their child in their baby's first year
285,000 couples are eligible to take shared parental leave every year
according to BEIS research around 49 percent have heard of shared parental leave, but only 8 percent claim to know a lot about the policy
government estimated that between 2 percent and 8 percent of eligible parents would take shared parental leave in its first few years and take up is estimated to be in line with those initial expectations
parents can share up to 50 weeks of leave, taking it in up to three separate blocks, or sharing the time to have up to six months off together
parents can also share up to 37 weeks of Statutory Shared Parental Pay, this is paid at £140.98 per week – the same as the last 33 weeks of Statutory Maternity Pay
as well as Shared Parental Leave which was introduced in 2015, the government introduced a right to request flexible working (2014) which applies to around 20 million people
parents can benefit from up to £2,000-a-year of tax-free childcare per year