April 30, 2015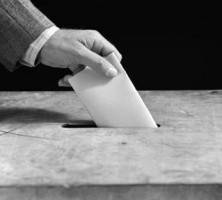 With only a week to go until the general election, nobody seems clear on what exactly will happen at the polls, least of all the voters. The BBC's political correspondent has described it as the Vanilla Election, with the major parties paralysed by the closeness of the race into not doing anything bold or imaginative enough to spook an ambivalent and undecided electorate. With little to differentiate the parties and an unprecedented degree of cynicism fuelled by social media and online commentary, it seems likely that voters may be swayed by what may in the past have been peripheral issues. Over the past few days several news items have even hinted that workplace related issues might have a role to play in making up people's minds. Here are three.
Flexible working
Last week, even as the Government announced some disappointing economic figures, software provider ClicData produced a report which highlighted how nearly half of the UK's SMEs are worried about the outcome of the election. There's perhaps nothing too surprising in that, but what was interesting was the reasons the business owners gave for their nervousness.
More SMEs are worried about the impact of flexible working legislation than they are about policies concerning minimum wage and taxation. The five most cited concerns were as follows:
Pensions  – 44 percent
Flexible working legislation – 38 percent
Minimum wage – 36 percent
Tax regulation – 32 percent
Maternity and paternity rights – 27 percent
What is particularly worrying according to the report's authors is how widespread such views might be, if you assume they are representative of  SMES. There are now over five million SMEs in the UK, employing 60 percent of the UK workforce and generating close to 50 percent of the turnover of all private sector organisations. The report echoes earlier suggestions that legislators are developing policies that betray a lack of understanding of how people work, attitudes to flexible working legislation, and the nature of small business.
Broadband
According to a report from broadband comparison site cable.co.uk, nearly a fifth (18 percent) of the UK electorate say that a party's broadband strategy will affect the way they vote. The comparison site's editor-in-chief, Dan Howdle, claims it is no coincidence that the figure of just under 20 percent almost matches the "one in five households in the UK that are yet to have superfast broadband deals made available to them. No party manifesto has promised to roll out superfast broadband to 100 percent of household. Homes, businesses and childrens' educations are respectively isolated, diminished or stunted by poor connectivity."
There is nothing new in this. People and businesses have been grizzling about the UK's achingly slow rollout of fast and reliable broadband for a while. The Government has even criticised itself for the lack of progress. At the end of 2014 a report from Ofcom highlighted how damaging poorly developed technological infrastructure was for businesses and individuals.
Procurement and spending
An old issue for the electorate, of course, but if anything people are becoming even more cynical about the way local and central government spends their money. A YouGov survey published this week by the public sector accountancy trade body The Chartered Institute of Public Finance and Accountancy (CIPFA) found that a mere 16 percent of people in the UK trust Westminster politicians to make good decisions on spending and twice as many were confident about the abilities of local politicians to do the right thing.
CIPFA chief executive Rob Whiteman said the poll showed the need for political parties to set out more information about their plans to reduce the deficit during the election campaign. 'It is worrying that trust in Westminster's political class is quite so low,' he said. 'However given the paucity of financial information behind so many of the parties' manifesto commitments and how lacking in detail their spending plans are, it is scarcely surprising that most people in the UK want decisions on spending made as close to the people they affect as possible. This survey also demonstrates why CIPFA has been calling for greater devolution of financial powers from Westminster to local areas. The public want it and it now must fall to Westminster politicians to deliver this devolution if they are to restore the trust of people and communities up and down the country.'